Every bathroom needs this cheeky DIY toilet organizer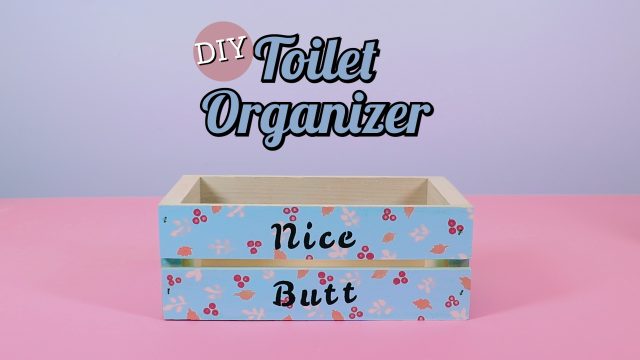 It's the beginning of a new year, and suddenly our to-do lists are twice as long as normal. We're all working toward new and exciting goals, and one that often comes up on our list is organizing. After bingeing Tidying up with Marie Kondo, we're all obsessively folding our clothes and discarding our belongings that no longer spark joy. As we refresh our living spaces, though, it's easy to overlook one of our most important rooms: the bathroom.
This adorable and punny DIY toilet organizer will help you keep your bathroom tidy and spark joy every time you see it. Storage is always difficult when you live in a small space, so make something that looks pretty while it holds your toiletries. Some ideas for what to store: extra toilet paper, soap, hair products, or tampons. Watch the video below for more ideas.
This year, get a little more organized, and start with a room in your house that you know you'll spend time in.
[tempo-video id="5988005664001″ account="4607804089001″]
DIY Nice Butt Toilet Organizer
Materials:
Small wood crate
Spray paint
Acrylic paints
Letter stencils
Stencil paint brush
Small paint brushes
Q-tips
Instructions:
1. Spray paint the wood crate and let dry.
2. Paint leaf patterns on the crate. Use a Q-tip to make dots.
3. Dip the stencil brush into dark paint and dab the excess paint off until only a little remains on the brush. This will ensure the stencil comes out clean.
4. Place the stencil on the crate and dab the stencil brush over the letters.