Sparkle on New Year's Eve with these DIY tinsel earrings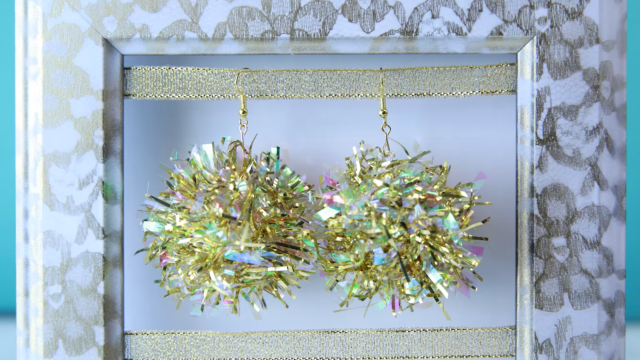 New Year's is all about being a new, dazzling you along with the new year. That's why we love to glam it up when the countdown begins wearing all the sparkly things that we can find in our closet. New Year's Eve is that last celebration of the year's past before you set your goals for the upcoming future.
One of the best resolutions to make is to become more crafty and recycle some old things you don't need anymore. These DIY Tinsel Garland Earrings are a perfect early craft for a jump start in your new reinvention of you. Take some of your old holiday decor and turn it into dazzling accessory for when the ball drops at midnight. Watch the video below to see how easy it is. When your friends see you glitzing it up at midnight in these gorgeous DIY earrings, they'll be making you their 2017 goals for next year.
Tinsel Earrings
Materials:
Tinsel garland
2 Head pins
Sequins or beads
2 Earring loops
Round-nosed pliers
Instructions:
1. Roll the tinsel garland into a pom pom. If the garland is made of wire it should stay in place. Otherwise, tie a thread around to secure the garland in place.
2. Put a sequin onto the head pin and stick the head pin through the pom pom.
3. Use round-nosed pliers to make a loop at the top of the head pin.
4. Stick the earring hook through the loop, and close the loops with pliers.