These DIY Ring Pops will delight your inner '90s kid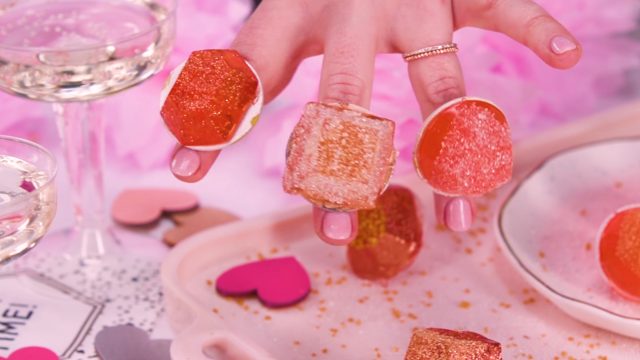 If you're looking for a flashback to the '90s, these DIY Ring Pops are sure to give you the nostalgic feels. When we were kids, there was nothing more glamorous than loading up our hands with as many candy rings as possible, or sticking just one on our ring finger and pretending we were engaged.
This recipe would actually be perfect for a real, grown-up engagement party, bridal shower, or bachelorette. Decorate the lollipops with gold flakes, sprinkles, or luster dust for extra luxury. Experiment with different flavors—like strawberry, cherry, or even rosé.
Watch the video below for a flashback to your childhood, and share your nostalgic creations with all your friends.
DIY Ring Pops
Makes 12
Active 30 min. Total 1 hour
Ingredients
Silicone jewel mold
1 1/4 cup granulated sugar
3/4 cup light corn syrup
1/2 cup water
2 tsp. strawberry extract (or flavor of choice)
1 drop light pink food coloring (or color of choice)
1 drop pearl food coloring
12 plastic rings
Sanding sugar (gold, clear, silver)
Edible luster dust or edible glitter (rose gold, pearl, gold)
Directions
1. Coat silicone mold with cooking spray. Stir together sugar, corn syrup, and water in a saucepan over medium-high. Cook, stirring constantly, until a candy thermometer reaches 300°F (hard crack stage).
2. Remove from heat. Add strawberry extract and food coloring; swirl mixture to combine. Pour into a liquid measuring cup for easy handling. Carefully pour hot candy mixture into prepared jewel mold, filling each to the top. Place a plastic ring on top of each jewel mold. Carefully place silicone mold on a cooling rack; let stand 30 minutes.
3. Once cool, carefully pop each ring out of the mold. Decorate pops with sanding sugar and luster dust. Store ring pops in a sealed container in a cool place up to 2 weeks.