Give yourself a sensory break with this DIY rainbow kinetic sand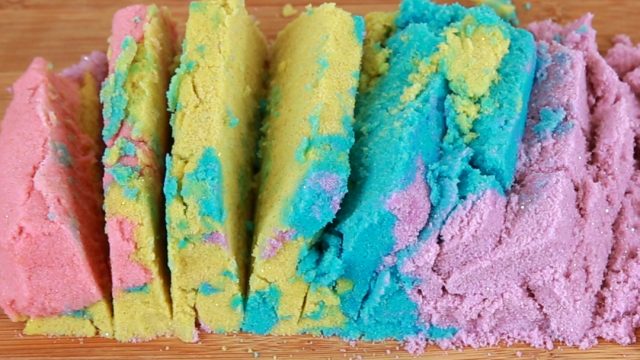 Kinetic sand is one of the most fun things we remember playing with as kids. Good news: If you're now a parent, or just miss the days of playing in the sand, you can make your own DIY kinetic sand at home.
This DIY rainbow kinetic sand is so soothing to play with, you might never stop. Besides the sand (which is just one quick online order away), you probably have everything you need to make this in your kitchen already: water, cornstarch, dish soap, and food coloring. Separate the food coloring into bowls by color so you can create your own rainbow, or even galaxy, sand pit.
Sensory play activities are always perfect for kids, and they'll love making it as much as they'll love playing with it. Who knew you practically had a whole sensory beach in your kitchen already? Share this video with anyone who isn't afraid of digging in.
DIY Rainbow Kinetic Sand
Ingredients (for each color):
1 cup fine white sand
1 Tbsp cornstarch
1 Tbsp fine glitter
1 Tbsp water
1 tsp dish soap
5 drops of food coloring
Instructions:
1. Combine the dry ingredients in a bowl, stir thoroughly.
2. In a separate bowl, combine the wet ingredients. Stir gently, avoiding making bubbles with the dish soap.
3. Pour the wet ingredients into the dry ingredients and stir until combined. The mixture should be the consistency you could build a sand castle with. Add more water 1 teaspoon at a time if needed.
4. Repeat with as many other colors as desired.
5. Store in an airtight container.