How fashion brands led by women of color are redefining "nude" to push diversity forward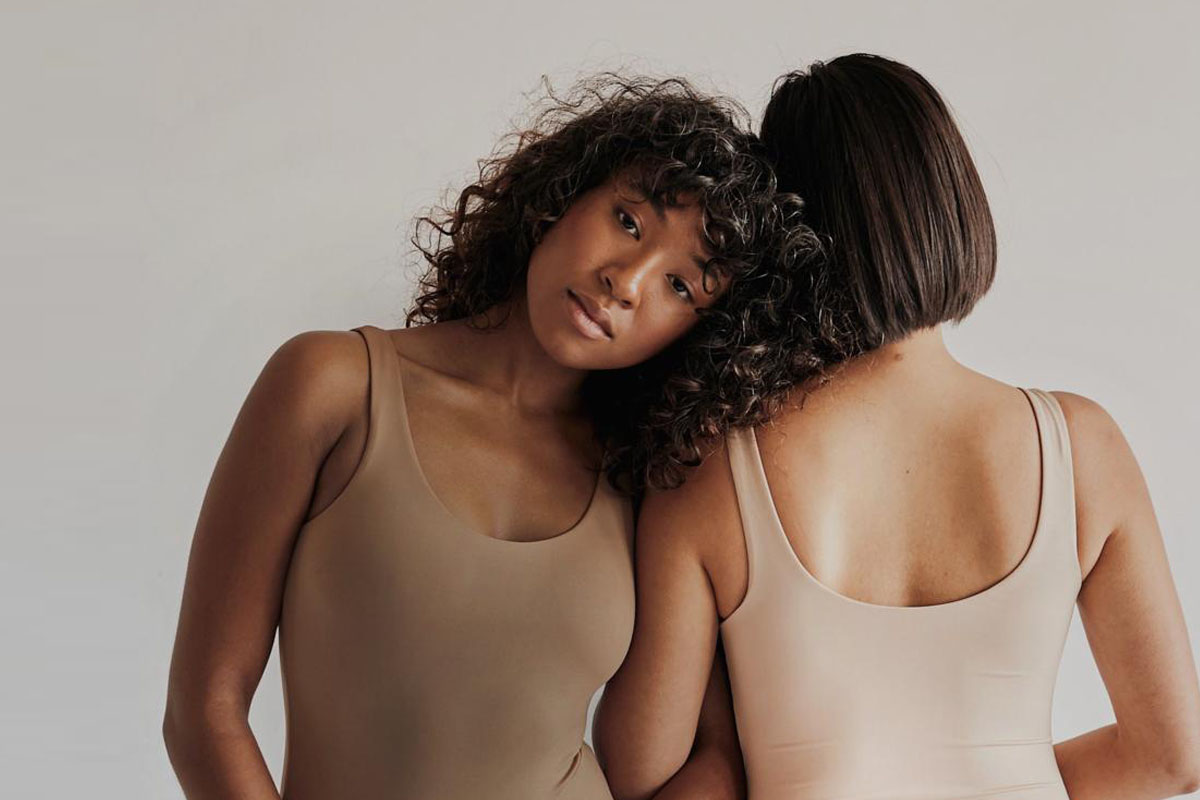 Multi-industry mogul Rihanna made history earlier this month when she became the first black woman to head a luxury fashion line in Paris. At a hypervisible celebrity level, the wrinkles of industry-wide racial discrimination seem to have smoothed, yet women of color across the board still struggle to see themselves represented in the clothing options available to them online and in brick-and-mortar retail stores.
The manifestation of "nude" in fashion is narrow. Nude usually denotes a pale beige tone, implying, problematically, that lighter skin is the default. For decades, women have walked into stores looking for nude stockings, only to find two shades of light and dark, which completely ignores the range of skin tones in between. This lack of representation within every tier of the fashion industry—fast fashion, department stores, online stores, social media marketing—speaks to a nasty assumption that women of color (WOC) don't have enough spending power to motivate brands to redefine "nude."
But a handful of fearless WOC entrepreneurs have founded brands that make products specifically for women of color looking for nude clothing and accessories to match their skin tone.
These women embody that Solange "F.U.B.U." experience of being so fed up with trying to fit into the options available that you have to step in and make everything your damn self. The strides from brands like Nubian Skin, which sells underwear and hosiery, and Kahmune, which sells luxury shoes, to offer a wide range of skin tones have been celebrated, but most consumers have no idea how much harder these founders have to work within the constraints of a multi-billion dollar industry not designed for their participation.
Nubian Skin made waves when they launched in 2014, landing features in Teen Vogue, HuffPost, and Cosmopolitan. I reached out to its founder Ade Hassan to learn more about the hurdles the brand has faced while trying to serve four different dark shades of nude.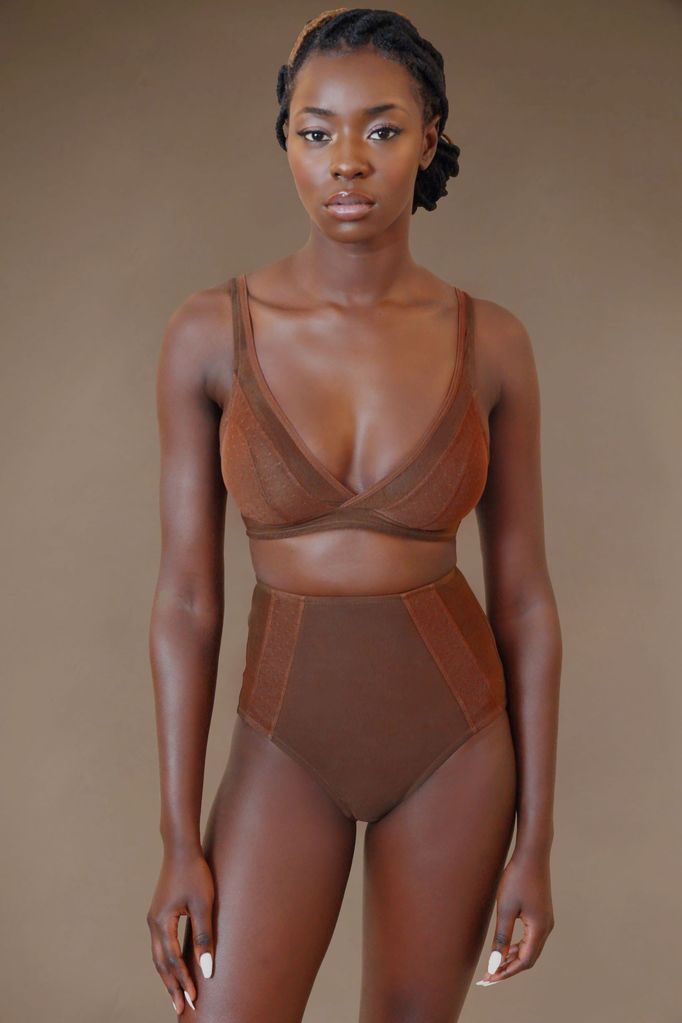 Jamela A. Acheampong, founder of Kahmune, was fixated on finding the highest quality leathers for her shoe line, which features, not one, not three, but 10 different shades of nude. Shoppers can also order individual leather swatches to make sure they are ordering the correct shade. "When I say I spent hours settling on my 10 shades, I mean hours!" Acheampong told me. She and her team studied the diverse undertones of skin tones across the world and met with numerous leather suppliers to find the right combinations of color, quality, and comfort.
"Nude," as it pertains to white or light-skinned women, has been developed for centuries and made into an industry standard. Designers looking for a pale beige "nude" are instantly offered that option by fashion industry suppliers, while those who want to offer a diverse range of nude have to jump through incredible hurdles.
Having to develop your own materials and components from scratch means meeting increased purchasing minimums, delays in the design process, and hiring more team members to manage the extra work.
We were shook (and proud) when we learned that Beyonce often asks to be paid in equity, but most of us don't know what this actually means in the context of the fashion industry. Working toward "equity" means fighting to make sure that every woman of color involved in the making of the end product is compensated according to the value that she brings to the brand.
In 2017, T-shirts sold by the Women's March, emblazoned with phrases such as "Feminist AF" and "The Future is Female," came under fire for their questionable manufacturing process. The shirts were made by Gildan, a company with an alleged history of profiting from sweatshop labor in Central America. What use is diversity if brands are manufacturing clothes irresponsibly, which, in turn, hurts people from marginalized communities?
Nonetheless, WOC-led brands like Proclaim continue to push the conversation forward by proactively solving the problems that make the fashion industry inequitable for marginalized communities. Proclaim makes a line of nude lingerie that is ethically produced in Los Angeles, and the material for the collection is made from recycled plastic bottles.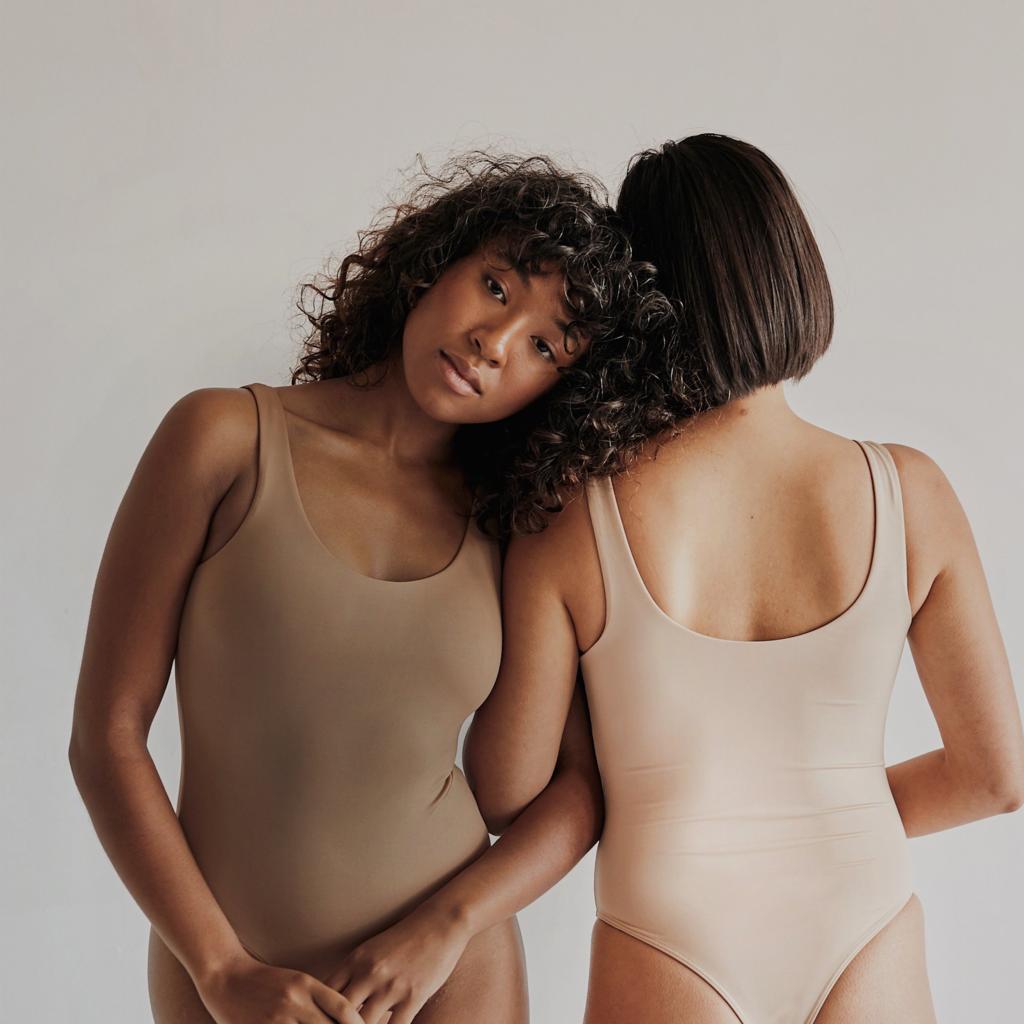 South Asia-born, St. Louis-raised founder Shobha Philips shared the importance of this ethos with me. "I knew that to create a collection that addresses the lack of diversity in fashion," she said. "I couldn't also be complicit in an industry that notoriously exploits the hard work and resources of people of color." When brands exploit labor and environmental resources in the name of representation, they continue a vicious cycle of poverty for the workers—typically grossly underpaid women in impoverished countries—who are making their products.
"Intersectionality" is another co-opted buzzword that some feminists may not actually understand.
Working toward "intersectionality" means speaking up for marginalized identities who occupy multiple spaces of marginalization. Religious identities and plus-size women, for example, are excluded from the conversation of diversity. For example, Inayah is a London-based brand that caters to Muslim women's conservative needs, with modern abaya designs that easily rival any contemporary women's brand. The brand makes a line of hijabs in different shades of nude to complement different skin tones within the community. Its incredible presence in the fashion industry gives Muslim women all over access to modern, en vogue pieces to help them express themselves. 
NuNude also centers intersectional representation. The brand offers a range of fashionable two-piece sets, sportswear, underwear, and outerwear in multiple shades of nude. Since its launch, NuNude has prioritized casting diverse models like Fats Timbo, a model born with achondroplasia or dwarfism, and plus-size influencer Queen Mojo. NuNude is one of a select few brands that are working overtime to cast models of different ages, sizes, and abilities. Brand rep Joanne B. Morales shared that NuNude's marketing campaigns are heavily rooted in community.
Ultimately, WOC-led brands work twice as hard to pinpoint the needs of the communities they serve, often with half the recognition of white counterparts. This sociopolitical diligence is rarely seen with brands who do not center the needs of communities of color.
As a woman of color who worked for a few years in fashion production, I was left starry-eyed and optimistic by incredible entrepreneurs willing to take on the work of creating products by us, for us. Fashion brands are swinging the pendulum toward inclusivity, and I ain't mad at it.
What's actually enraging, however, is the slow movement of legacy retail brands when it comes to providing intersectionality and equity in their (lukewarm) efforts to become more diverse. Change needs to trickle down from the top leaders in the industry willing to take some financial L's and risks to meet the often underestimated buying power of women of color. We're here, and we're not going anywhere.