What Dita Von Teese says about getting older is super inspiring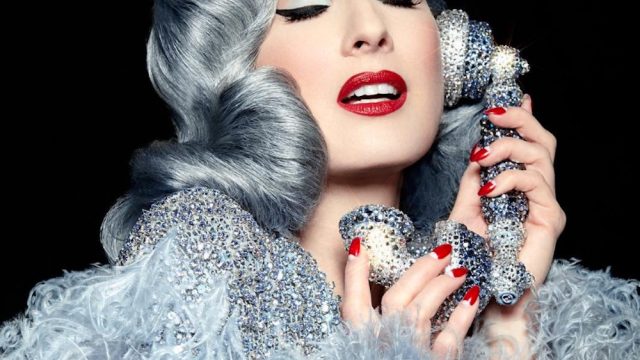 Listen, it's easy to say that we want to age gracefully and that we don't care about getting older — but the truth is that we all have to come to terms with how we feel about aging at some point. It's really helpful to hear other women's experiences and input on the subject, and Dita Von Teese's People magazine essay against ageism is incredibly inspiring and affirming.
Dita has built her career on a sexy yet powerful image that many assume would become obscured with age. But that's not the case, according to Dita. Like so many of us know and hope, age only makes us better. Now in her mid-forties, Dita is still performing with young burlesque dancers in their early 20s. And while that can be intimidating, it's not stopping her. There's no slowing Dita down.
In her essay, Dita Von Teese tells us where she gets her inspiration, and how she loves to hang out with older, sexy, glamorous women.
https://www.instagram.com/p/BYbKMA1B-OX
She tells People magazine:
"I recently had lunch with Mamie Van Doren, the actress and iconic pin-up from the '50s. At 86, she's a sensual woman who still feels the same way she did when she was 19."
https://www.instagram.com/p/BX8fR5MD7Z9
When Dita's own pin-up career began, she was searching for an identity that made her feel strong and powerful while still completely embracing femininity. By channeling idols like Hedy Lamarr and Betty Grable, she felt glamorous and timeless.
Dita Von Teese discusses her experience of going back to perform at The Crazy Horse as a 44-year-old woman.
https://www.instagram.com/p/BXiYm3ahtGs
The reviews all said she was better than ever, which is why she was confused and frustrated by the barrage of ageist remarks and age-related questions. She tells People,
"I find it so short-sighted. What's the alternative? Die young? Would you ask me this if I were a man? Are you wondering whether I'm worried about getting old? Yes, I am; we all are."
https://www.instagram.com/p/BWwdleYB9Sp
She added,
"I hate it when people say, 'You look good for your age.' It should be, 'You look good.' Period. Getting older is a good thing."
It's not every day we hear celebs speaking candidly about aging, and Dita's remarks are comforting precisely because those feelings are so universal.
These days, Dita is happily touring and drawing on inspiration from women like Jennifer Lopez, who, at a few years older than Dita, shows no signs of slowing down. It's lovely to hear that even the most glamorous and successful of celebs look to each other for inspiration, just as we do.