Dita Von Teese talks to us about self-love, seduction, and the magical allure of lingerie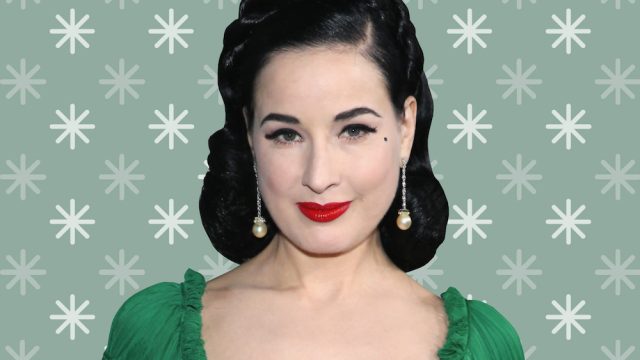 Dita Von Teese is the living embodiment of old-school femme glamour. She's a burlesque superstar, lingerie designer, pin-up, author, and musician. Dita's traveled the world with her elaborate stage shows, written two books, and has an album dropping on February 16th, nbd. Her eponymous lingerie line is bringing sexy vintage style to the masses, and we're obsessed.
Dita recently emcee'd the lingerie industry's biggest event of the year, the Femmy Awards, which honor luminaries and organizations in the intimate apparel industry. The Femmys are presented by the Underfashion Club, a nonprofit that provides scholarships and grants to emerging designers in the field. Lingerie holds a special place in Dita's heart so she was the perfect host for the event.
We had a chance to catch up with the icon herself backstage at the awards. The queen of all things glam dished on her life-long love affair with lingerie and shared her tips on how to become the ultimate seductress.
Dita hosted the awards ceremony in a dress by designer Ulyana Sergeenko.
HelloGiggles: When did you fall in love with lingerie?
Dita Von Teese: I remember being a little girl and being obsessed with what was in my mother's lingerie drawer, and wondering what those mysterious little things were, those lacy little things. Being so curious about that and how interesting it was that all women were wearing these things under their clothes. I had a really basic fascination from a young age. I was a late bloomer too, and didn't get my first bra until late in the game.
I also remember stealing my dad's Playboys — at that time in the '70s and '80s there were lots of these soft focus pictures of girls in lacy lingerie and garter belts and stockings. When I got to wear my first pair of pantyhose, my mom gave me those L'eggs pantyhose in the egg, and I was totally confused about why I wasn't going to be able to wear garter belts and stockings like I saw grownup ladies wearing! I was like, "Wait a minute…." I couldn't wrap my head around that. My first job was working in a lingerie store from age 15 until I was 22 or 23.
It's really my love of lingerie that sparked my entire career. It's why I first started being photographed as a pin-up (in the early '90s). It was to be photographed in my lingerie. And now to have my own lingerie collection — to me it all goes back to my childhood and my childhood obsession. It's always been with me; it's my first love.
https://www.instagram.com/p/Be3h5LPh3He
HG: For a person who's shopping for lingerie for their partner but maybe doesn't know anything about it, where do you suggest is a good place to start?
DVT: Having worked in a lingerie store I used to really try to get my head around, if someone wanted to buy lingerie for their significant other, could we see some indication of what she already likes to wear. Nowadays it would be easy to snap a couple of pictures, get the right size, get a feel for what somebody's partner likes. I don't think people should buy lingerie that's totally out of character. It's a lot of pressure and if you want to explore buying lingerie that's completely different, a new experience, I think that should be the wearer's choice more than the giver's choice.
We're living in this wonderful time where we don't have to sacrifice fit and function for sensual glamorous lingerie. I don't think there's any reason anybody should get some weird flimsy crotchless underwear kinda thing that they wouldn't be comfortable wearing. There's no reason to shop for stuff like that anymore. Unless that's what you want or you're sure that's what your partner wants and wants to wear.
https://www.instagram.com/p/BdWEQ8zBQn_
HG: What about for a person who is shy or afraid to try lingerie for the first time? Maybe they're a Hanes cotton panties kinda girl….
DVT: I respect someone who is a Hanes cotton panties kinda girl, because I think it's important to know yourself and respect what makes you feel confident and good about yourself instead of trying to put on or tell someone that something else should make them feel sexy. I like to talk about what lingerie does for me and what garter belts and stockings do for me, and I talk about that rather than talking about what a man might like.
I think about why I like stockings and garters—because it's like wearing a frame and it hides things, it gives us like a camouflage if we want that. And so I have all of my reasons for loving beautiful lingerie. None of them are ever about what somebody else thinks I  should be wearing. So that's the important thing.
If you are happy wearing your cotton undies — and I can tell you from experience that in my sex life — if I were to wear a pair of cotton underwear it would be equivalent to a normal girl who wears that all the time wearing black lace garter belts. My boyfriend would probably finally look! He's just conditioned to see stockings and garters and black lace and red lace every day, he wouldn't even notice that. I've been dealing with that my whole life. There are very few tricks I can use anymore because I wear this stuff all the time because I love it.
https://www.instagram.com/p/Bd5bXLih4Xi
HG: What's the weirdest, most ridiculous, maybe most expensive piece you've worn for work or a performance where you wondered, "What is this, why am I wearing this?"
DVT: I pretty much always stand by my choices. I pride myself on performing extravagant and sometimes what seems to be impossible striptease. I remember getting myself in a situation where I decided I was going to wear the most advanced corset onstage and striptease from it. It was made by Mr. Pearl and laced all the way up to the top of the back, all the way down to the crotch, from the back to the front. The only way out of that corset was to unlace the whole thing, grommet to grommet. It was one of those things where I just had to learn how to do it. It was like a Houdini trick! I always think I can do this. If somebody can do a magic trick, a sleight of hand, and I'm supposed to be the best stripper in the world, then I can learn how to get out of this. Right now I'm up against this new crazy costume, an advanced striptease situation, so I'm about to tackle that one. A lot of practicing to do first before I can get out of that monstrosity.
https://www.instagram.com/p/BeFqTJnhOVa
HG: If you weren't doing this, what would you be doing with your life?
DVT: I would probably still be working in lingerie. I'd hopefully be designing my lingerie like I am, working in an office on that side of the design part. I mean lingerie has always been part of my life. I would probably be doing something with it still, just in a different arena perhaps.
https://www.instagram.com/p/Bdd-30_B0kH
HG: How big would you say your collection is?
I have a warehouse, an archive of vintage lingerie. Just trunks and trunks.
HG: You have Bettie Page's heels! Is she your favorite?
DVT: She's my favorite for certain things. She was really like my first introduction to fetishism and fetishistic lingerie. It was the first time I saw fully fashioned seamed stockings and leather gloves, mixing the extreme fetishism with high glamour. That was really my first goal in 1991, to be the modern answer to Bettie Page.
https://www.instagram.com/p/BeDjEagh0t4
HG: Lingerie has a lot to do with self love, and self care. How do you practice this?
DVT: I have always believed to become the ultimate seductress. To seduce someone, is to make them want to be part of your world, you know? It's not like predatory, even. People become seduced by a person and it makes them want to be around you and in your world. And so I always think about what that means and the way you become a master of seduction — a "maestra" of seduction, I like to say — is you have to be well-practiced. You're living it because you love it.
I used to have people come to me and go "Uh, I want to, uh, wear sexy lingerie for my boyfriend," and I'm like you should start now, or you should have started awhile ago and just practice and use it in your everyday life. If you want to seduce someone it's the art of being without being for someone. You have to genuinely like what you're doing. I believe in creating a poetic space in your home life and wearing beautiful lingerie that fits you well, that you can wear every day so it's not like "Oh, I gotta put on my sexy outfit for someone."
Like, why are you wearing your sexy outfit for someone? You should wear it for you. Then it becomes effortless and it seems nonchalant and that's like the ultimate. It doesn't look desperate, it just looks like you are. I think that's an important thing I've always done throughout my life, with my home, what I'm wearing, perfume, makeup, all those things.
https://www.instagram.com/p/Be5PsIPhpqt
Dita absolutely makes it look effortless. No matter your own seduction or underpinnings style, we can all agree that doing it for yourself is the best thing you can do.
Shop Dita Von Teese Lingerie at Bloomingdales.com, Nordstrom.com, Glamuse.com, barenecessities.com, and Myer.com. Catch Dita on tour in the US starting in April.