Disneyland has some news for you. And you're not gonna like it.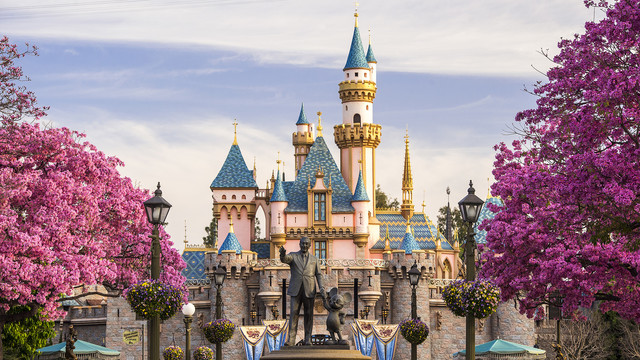 How excited are you for Star Wars Land to open at Disneyland?? The answer is probably SUPER excited, even though it's still a few years down the road. At least that gives everyone plenty of time to start saving up a ton of money to buy an admission ticket into Disneyland. Because as of right now, the prices have gone up. And they've gone up a lot.
Every year since its opening back in 1955, Disneyland has increased ticket prices a little bit each year. In 1955 when it opened, one-day tickets cost $1 (and you actually had to pay for the rides separately, like a carnival). Now they cost $99, not including the park hopper option, which is an extra $40. Yes, that's truly a huge increase in the last 60 years, so the smart thing to do is buy an annual pass for the park, which gives you unlimited access to ride Space Mountain as many times as you want 365-days a year. However, as of right now, it's that annual pass that has surged super high in price, like, to the very tip-top of Mickey's Fun Wheel.
Now, if you want the opportunity visit Disneyland every single day of the year, including holidays, that's going to cost you a whopping $1,049 with the new ticket, Disney Signature Plus Passport. Yes, it's super expensive, but after seven visits to both parks with a park hopper, the ticket pays for itself. Also, you'll get free parking, unlimited PhotoPass downloads, and discounts on merchandise and food (the two most important things of any Disney trip, TBH).
From there, the annual tickets drop down in price to the Signature Plus Passport, that allows you admission every day EXCEPT major holidays, like 4th of July and New Years Eve; and the Deluxe Passport where you have to pay for your own parking (which was $18 a trip at last look) and can't visit on all holidays and most weekends. Those tickets are $849 and $599, respectively, for anyone over the age of 3 — and don't worry, payment plans for SoCal residents are still available.
AND, if you are looking to throw caution to the wind and dive right into a ticket that lets you visit both Disneyland and Disney World all day, every day, all year long, that ticket costs you $1,439.
"In addition to our continued investment in the guest experience and the expansion of our parks, our new selection of annual passes will help us manage strong demand and continue to deliver a world-class experience, while providing more choices for guests to select the pass that best meets their needs," Suzi Brown, a Disneyland spokeswoman, explained in a statement.
But still, all of this is  a lot a lot a LOT of money. But on the other hand, Disney has a lot a LOT of stuff to pay for over the next few years, with that huge Star Wars expansion among other things. Raising the price for admission makes sense, but it's also a huge bummer for anyone who doesn't have hundreds of dollars to spend on multiple trips to the Happiest Place on Earth. Then take into account the fact that families could be traveling with multiple kids, and buying multiple admission tickets, and then paying for food and merchandise inside the park, and a character dinner with princesses… and everything adds up very quickly.
So basically, Star Wars Land better blow our minds away for all the dollars we're going to start shelling out. Star saving up money for your ticket right. now.
(Image via Disney)