Now you can eat peppermint candy cane churros at Disneyland, and it's a Christmas miracle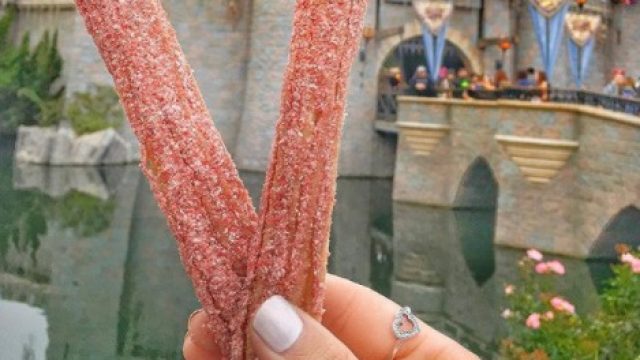 We already love Disneyland for a million and one reasons, but now we love it even more. Why? Because Disneyland is selling peppermint candy cane churros just in time for the holidays. Of course, taking a trip to the theme park is on our wish list anyway. It's one of the most festive places on Earth come Santa season. Whether it's taking a spin on the decked out and lit up "It's a Small World" ride or just posing for pictures with the many decorations around the park, it's impossible to NOT get into the holiday spirit when you visit Disneyland at Christmas.
And 'tis the season for peppermint candy cane churros. Glittery red sugar on fried dough? YAS, please. Our mouths and taste buds are ready just thinking about it. The dessert combines two of our favorite things: churros and peppermint. Definitely a mouth-watering win-win. It's a nice bonus that they're perfectly Instagrammable too.
Of course, this isn't the first time that Disneyland has rolled out a unique churro flavor. There were the pumpkin churros introduced back in September. And don't forget the golden churros back in March to celebrate the 50th anniversary of Pirates of the Caribbean (the ride). And our personal favorite? The lightsaber churros that debuted back in May. Yes, the (churro) force was with us!
Behold: peppermint candy cane churros.
https://www.instagram.com/p/Bbaq3JKlJ5b
Theme park visitors have been posting photos of the sweet treat on Instagram.
They look soooo good.
We can practically taste them.
https://www.instagram.com/p/BboBJqonvbc
Oh, and if you're craving a peppermint marshmallow wand, Disneyland has you covered there too.
https://www.instagram.com/p/Bbr3Kd-lWEr
Or maybe you'd like a peppermint chocolate covered waffle cone?
https://www.instagram.com/p/BbFDrv1nii9
All of these peppermint treats look incredible. Now, back to planning our next trip to Disneyland. We need to try peppermint candy cane churros for ourselves.