It snowed at Disneyland Paris, and the pictures look straight out of a winter dream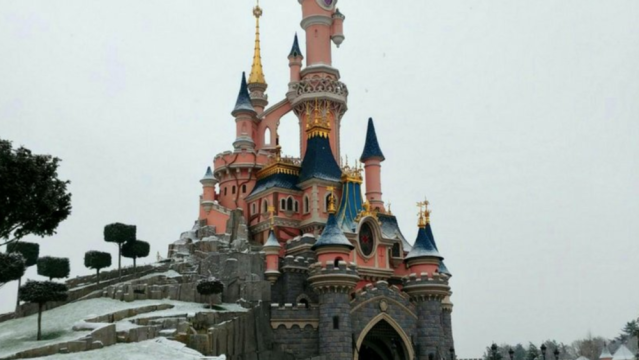 One of the most magical places on Earth is, without a doubt, Disneyland. Well, Disneyland and, of course, Paris. So the fact that a Disneyland Paris even exists is kind of wonderful in and of itself. Now, add the fact that it snowed at Disneyland Paris and we've got the perfect storm, y'all. Seriously, snow made the theme park look straight from our winter dreams, and even better, there is plenty of photographic evidence to prove it, too.
According to the Disney Parks Blog, the park in the City of Lights saw some record snowfall this past week. Specifically, a winter white snow blanket arrived in Marne-la-Vallée, France, and Disneyland Paris was lucky enough to reap the rewards of the change in weather. As the Disney Parks Blog reported, the snow covered much of the Paris location in white: "The park, which is in the middle of celebrating its 25th anniversary, was blanketed in white, giving the park's Sleeping Beauty Castle, Pirates of the Caribbean, Restaurant Hakuna Matata, Swiss Family Robinson Treehouse and Big Thunder Mountain a whole new look."
Seriously, going to Paris has always been a dream, and now I can go ahead and add going to Disneyland Paris during winter to the list.
I mean, talk about B-E-A-UTIFUL.
false false
https://twitter.com/udfredirect/status/961232875109707776
So yes, this is magical and making our day while simultaneously giving us a serious case of wanderlust. What's more, the snow might even continue. Travel and Leisure reported that there's more snow in the forecast the rest of the week, as well as early into next week. So if you happen to have some spending money at your disposal, it might be the perfect winter trip to take.
Because, honestly, does it get any better than a snowy Disneyland Paris?