Big changes are coming to Disneyland, and if you hate waiting in line you're going to want to hear this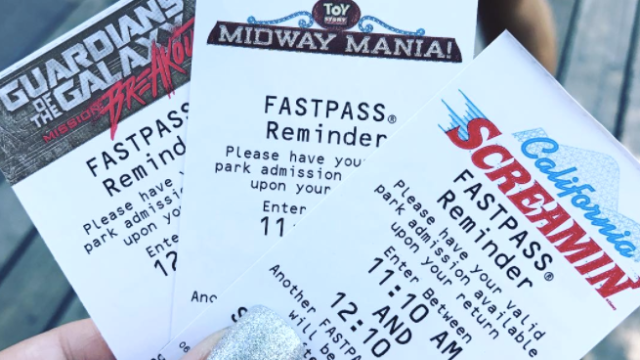 One of the best things in the world is spending the day at Disneyland! One of the worst things is having to wait sometimes 3+ hours in a line just to ride one ride at Disneyland!
Disney knows this, and that's why they introduced their Fastpass system, which is basically like a placeholder in line. You obtain a Fastpass ticket at an attraction with a printed timeframe on it, and then you return to the ride during that window with a minimal wait time. It's great! It's also changing — but don't worry, it's changing for the better.
Earlier this year, Disneyland announced that they would start rolling out a new program where you can actually reserve your Fastpasses ahead of time — so no more running from attraction to attraction to obtain paper tickets. While the official launch of this new system, called Maxpass, isn't here yet, Disneyland has juuuust started using new electronic tickets that are attached to your actual park ticket. So, go ahead and say bye-bye to the old Fastpass system, along with the paper tickets.
As The OC Register reports, Disneyland is starting to switch over to this new method. For the time being, you still get a printed paper Fastpass, but it's more of a "reminder" to return to the attraction, rather than the actual Fastpass; that's now included on your park ticket. Eventually, paper Fastpasses will go away entirely — just like they did at Disney World not that long ago — and everything will be linked to your park admission ticket.
(And yes, it is kinda silly to still print out a Fastpass ticket even though you can't actually use the paper Fastpass ticket, but hey, Disneyland wasn't built in a day, you know.)
It's believed that eventually, along with Maxpass, Disney's Magic Bands will pop up in Disneyland, too. Disney World uses Magic Bands to hold all your Fastpasses (among other things, like your room tickets) and everything is controlled via a downloadable Disney app. It's easy, it's simple, and guests can control everything on their phone rather than running around the park. And let's be real, no one wants to do that in  90+ degree heat.
Currently, this new electronic system is just a test, but it's expected to be made permanent as all the park's attractions update to this new system. So cherish those paper Fastpasses if you have them, because soon they'll be a distant Disneyland memory.