Buying Disney mugs for my parents helped heal the pain of losing our home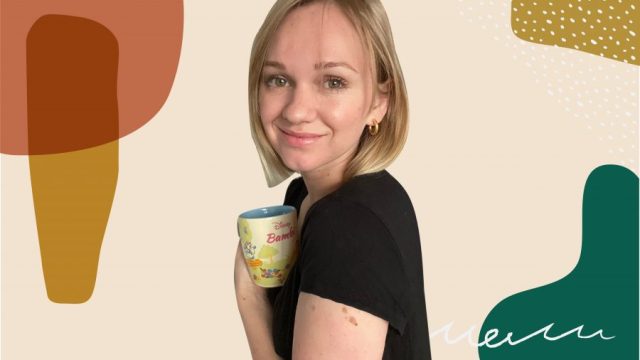 How I Bought That takes a peek inside the process of making a meaningful purchase, whether your budget is big or small. In this series, we look at what different nostalgic purchases meant for our writers, whether they filled their childhood dreams of owning a pool or brought back memories of trips to Disneyland.
There are plenty of reasons to dislike Disneyland. It's crowded, expensive, exhausting, and some people liken it to their own personal hell dimension. But while the prototypical image one might conjure up of Disneyland is a hot, sweaty, churro-scented wallet shredder, the truth is, the "Happiest Place on Earth" can be peaceful, and on certain days, beautiful. Even with my dark, cynical personality, I can often be found wandering around Sleeping Beauty's castle staring at attractions wide-eyed and wearing Mickey ears, because Disneyland is a place where I feel safe. It's a place where, as an often anxious and sometimes angry person, I don't feel anxious or angry while I'm there.
We, the McCombs, were quite the '90s SoCal family: My dad, a former-professional-surfer-turned-house-contractor; my mother, a lifelong waitress; and their two towhead children. The routine was to do absolutely nothing unique to any other Disney-dwelling family when we took our trips to the land of the mouse. We would ride Splash Mountain and eat unhealthy overpriced snacks, one of us (me) would cry and complain over blisters on our feet, and my parents would spend just a bit beyond their means to make my brother and I happy.
My mom and dad had a tradition of spoiling themselves at the park as well.The tradition was to pick out coffee mugs for each other to buy and bring home. Oddly, watching them sweetly pick out the mugs they were destined to drink coffee in on Sunday mornings was always my favorite part of our Disneyland trips. I, too, wanted a coffee mug, every single trip. Sadly, my parents wouldn't allow it because I also always wanted a stuffed Disney character. Naturally, something had to be sacrificed, and every time it was the practical mug that got the ax. Regardless, I still wanted a mug…always.
Perhaps what I truly wanted was what a mug represented to me: Being an adult. As a profoundly lonely child, I despised the act of being young and was convinced that being an adult came with having friends as a sovereign right.
Therefore, to me, adulthood was the Holy Land, making a Disneyland coffee mug the Holy Grail.
I don't remember a single toy my parents bought for myself or my brother, but I can remember every single mug my parents bought from that park—which is why, when we became statistical victims of the 2008 housing crisis, it hurt when my parents lost those mugs in the process of losing our home. It's strange how such small things like coffee mugs can matter in a time when terribly big things come to shake up the picture-perfect snow globes of our lives. Much like the Disneyland toys I can't recall, nothing material I lost during that period stood out to me the way my parents' silly Disneyland mugs did.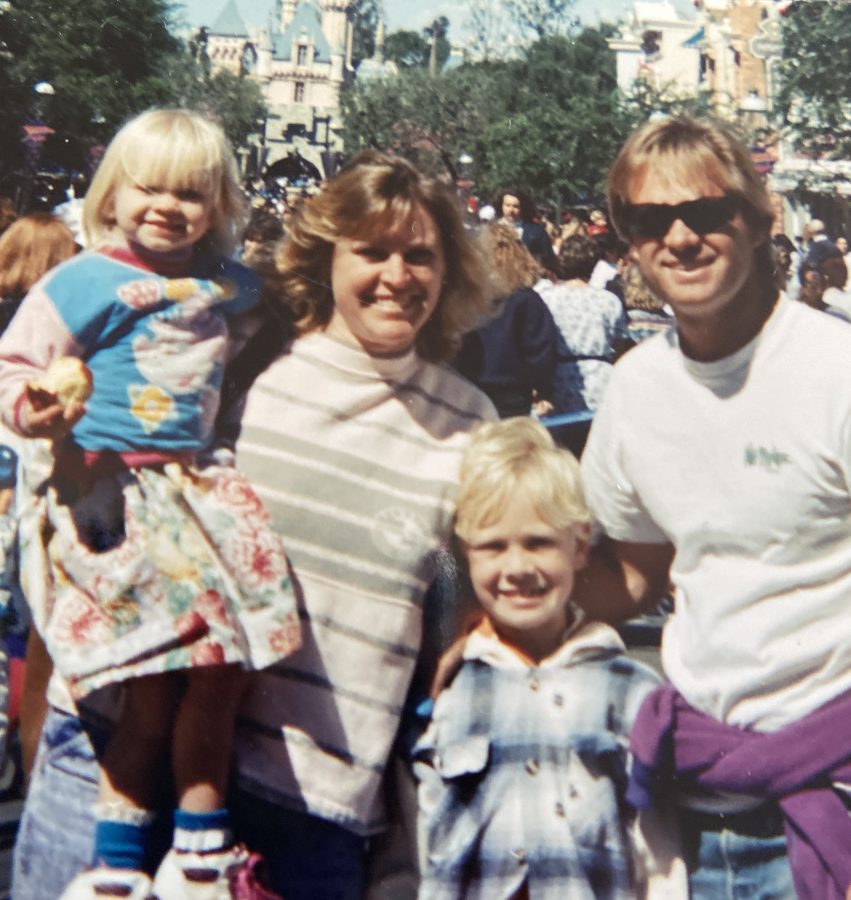 I was 17 when we got booted out of our home and I dropped out of high school as a result. I turned 18 as the snowball effect of extreme displacement developed into homelessness, making the adulthood I envisioned for myself a much more fraught and lonely one than my seven-year-old self had projected it would be. The events that followed the loss of my home are why I am an often anxious, sometimes angry she-creature who can only find solace in her childhood safe place.
What matters is I got through that dark time, somehow, and by 2014, I was an aspiring actress booking very small parts in television shows and films (due to a misguided attempt to win over my Mormon high school sweetheart. Empowering, right?). It wasn't until I booked a small one-liner in a Mark Wahlberg film called The Gambler that I stopped experiencing crippling anxiety every time I ran my card for a purchase. The Gambler was a big payday for me and when the film started airing on airplanes and cable, I got an even bigger residual paycheck. It's shocking how much money one can make for poorly delivering one line in a Paramount film. It almost felt criminal.
Earning that kind of money, for such little work, was a jarring experience. The instant surge into my bank account made me feel as if I was slowly being rescued from my socioeconomic rank, while I did little to deserve sanctuary. It was those big paychecks that made me feel saved and lost all at once. As time went on, I thought a lot about where I came from and how there was little trace of it. I had a screwed up sense of self and wanted to rebuild and revive some pieces of myself that I had been forced to leave behind. So I took a little bit of that Gambler money and I went to Disneyland.
I hope it's an easy guess that I bought myself a mug and not a stuffed Disney character toy, because that's exactly what I did. I was finally an "adult," who drank coffee and could actually afford to buy myself a pretty Bambi mug, which I still own. But, most importantly, I bought both my parents mugs, too.
It was a new feeling to stand at that cash register and swipe my plastic form of currency through a little electronic reader without the all-consuming trepidation that usually came with charging anything to my card. "Will it get declined? It's gonna get declined," was what I would typically think. This time, I knew the charge would go through.
I can't begin to describe that level of gratitude I felt. The emotion that came from buying these mugs not just for myself but my parents was strangely healing.
There had been a time where I couldn't even afford a cup of coffee from 7-Eleven, making me feel infantilized when I wished I could be maturing. Being able to buy those cups felt like a small step towards rebuilding my past while also starting a future.
My parents had been rebuilding too. In spite of all their progress, though, my mother had never truly gotten over losing so many memories and trinkets as we constantly relocated following the foreclosure of our house. So when I was able to visit them, and present to them Goofy and Minnie mugs, I swelled with pride as they accepted my gifts. Ironically, my parents admitted to me that the mugs never meant as much to them as they had to me. What mattered most to my parents, and what my gift showed them, was that I was happy and moving forward in my path.
I'm a freelance writer now, applying to universities later in life, so I can assuredly state that I have been broke since my Gambler days and will likely continue to be at times. Regardless, I've got my mug, and my parents have theirs because I bought them with money I earned. That is a small piece of agency I was able to claim after so many times I felt I had no agency whatsoever. I can hold onto that as I face the ups and downs of my journey, sipping coffee and feeling like an adult, less lonely and a bit more caffeinated.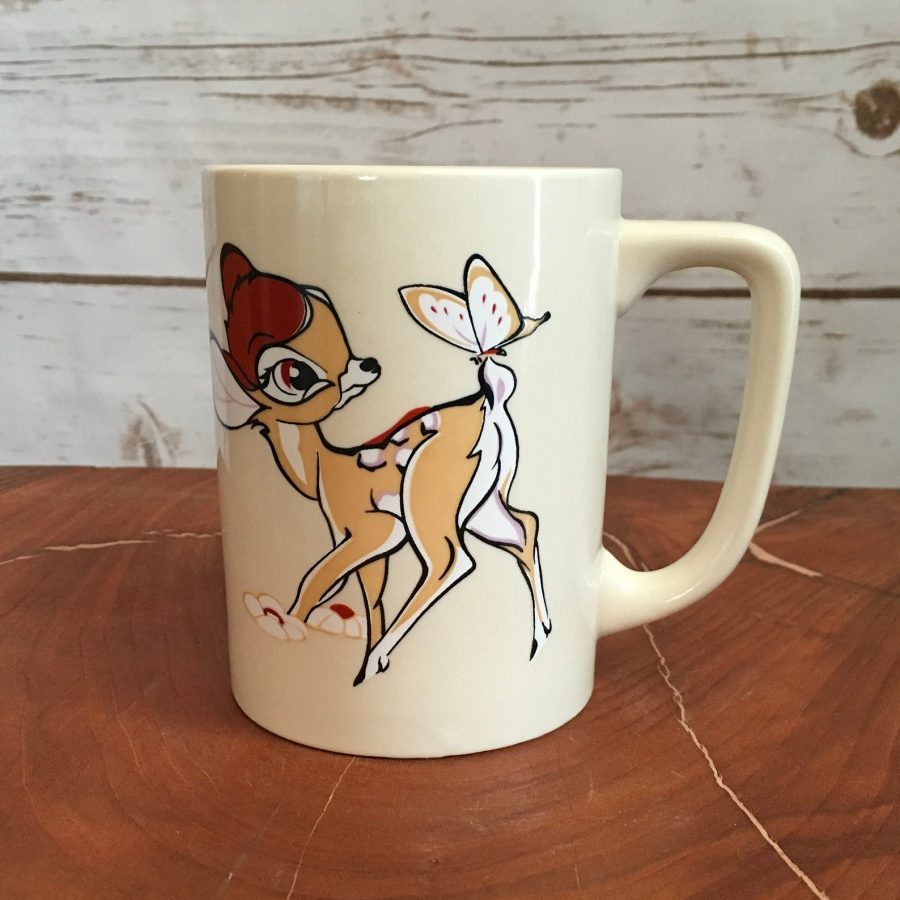 To shop for your own Bambi Disneyland mug, peep similar options on Etsy.