Guests are waiting an hour in line to snag Disneyland's latest frozen treat — but listen, it's worth it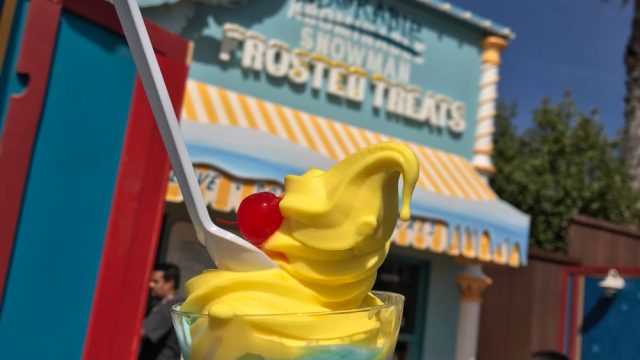 Disneyland and lines go hand in hand — it's just a given fact. If you're heading off to the happiest place on Earth for a day you're going to encounter a few winding queues throughout your adventures, and they're usually reserved for rides and character meet and greets. Oh, and Dole Whip. If you've ever wanted to chow down on a Dole Whip on a hot summer day, expect to wait somewhere from like 10 to 15 minutes before you snag one for yourself.
And if you want Disney's latest frozen treat over at Pixar Pier in California Adventure, get ready to wait for close to an hour. 
Pixar Fest is now in full swing at the Disneyland resort, and later this summer ALL of Paradise Pier will be rebranded with Pixar Pier. Stops along the dock are opening up one by one, and the ice cream spot is now Adorable Snowman Frosted Treats. While sure, you can get vanilla and chocolate soft serve — which is perfect on a hot summer day — you can also now get lemon flavored non-dairy ice cream. Basically, Dole Whip, but lemon. And it's delicious. And it also comes swirled with blue raspberry icee for a perfect hot summer day parfait that is also Instagram ready.
The only kicker is that you're going to be stuck in a really long line for it. Like, maybe an hour long line.
The Pixar Pier Frosty Parfait will set you back $5.99 (plus tax), and listen, it is worth it. It is worth it for that cool lemon blue-raspberry taste after you've just done California Screaming the Incredicoaster three times in a row. But with anything delicious and must-have at Disney, the line wraps all the way from the Frosted Treats back to the coaster's queue.
https://www.instagram.com/p/BiQQZh5A0OT
But considering how bright yellow and blue it is — not to mention how delicious — it's honestly worth it?? (Because reader, I waited an hour to get it and it was amazing.) You can also just snag the lemon soft serve in a cup, if that's more your speed.
https://www.instagram.com/p/BifYRs5g1YV
The rest of Pixar Pier opens on June 23rd, and you can grab one of these frozen treats for yourself right now…if you've got an hour to spare. And no, this is not a FastPass attraction.