Johnny Depp dressed up as Captain Jack Sparrow and surprised guests on the Pirates ride at Disneyland — as you do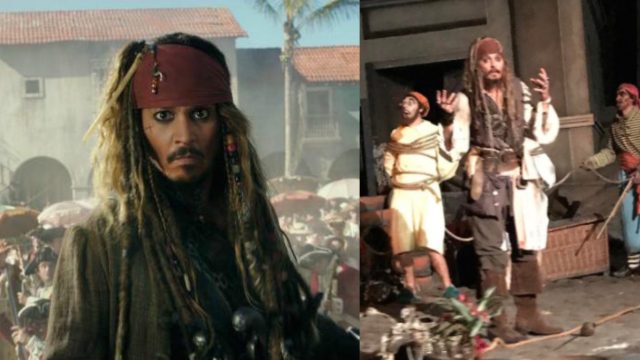 Imagine waiting 45 minutes in line to see a fake Jack Sparrow, and instead you get the real thing. It sounds like bonkers Disney magic, but in this case, it's actually a real thing that happened: Johnny Depp surprised guests riding Pirates of the Caribbean at Disneyland. You know, just a regular Wednesday night.
In full pirate getup, the once and future Captain Jack Sparrow surprised guests riding through the fictional Caribbean. It sounds so crazy, it can't be true, right? Pic or it didn't happen, but don't worry, we've got video. (Thanks, Instagram!)
https://www.instagram.com/p/BTX_-WJF1RZ
https://www.instagram.com/p/BTYAinfBFEA
It's certainly not every day that you see something actually come to life inside of a Disney attraction. It's also not every day that Johnny Depp is hanging around inside of Disneyland. But hey, they don't call Disneyland the happiest place on Earth for nothing.
Depp is hanging out in one of the first audio animatronic scenes in the ride, and from the videos and pictures it looks like Disney shut off all the other characters in the background (so, no, Carlos isn't bobbing up and down in the well). Usually, the robot Jack Sparrow is hanging out just a few feet away from this area, but obviously, there can only be ONE Jack Sparrow. And in this case, it's the real one.
Anyone else suddenly super stoaked for Pirates of the Caribbean: Dead Men Tell No Tales?
https://www.instagram.com/p/BTX5SY8DZYm
From the videos and pictures we have, it's clear that guest had no idea this was happening and were completely thrilled and surprised with this chance encounter. But now the big question: Did Johnny Depp grab a Dole Whip before he left the park for the day, yes or no?