18 of the best looks from Disneyland's Dapper Day 2016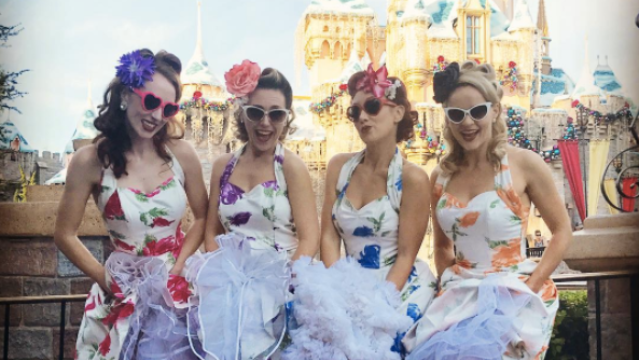 If you're a fan of Disneyland, chances are you've donned a pair of Mickey ears or a t-shirt of your favorite characters when enjoying a day at the parks. Or maybe you've even worn a costume or gone decked out in your Disneybound best. Whatever your Disney style, it's always fun to dress up while enjoying those Mickey ice cream bars.
Even more fun than a pair of Mouse ears or a fun shirt? The ever-popular event called Dapper Day that happens twice a year in the California parks. In the spring and fall of each year, guests are welcomed to don their best "sophisticated style from yesterday and today" for a day at Disney, inspiring many to go for some incredible vintage looks, while also taking inspiration from their favorite Disney characters. Disneyland's Dapper Day happened this past weekend, and we've got a roundup of the most dapper and sophisticated looks of all.
Channeling Buzz, Woody, and Jessie.
They are TOO cute though.
This Jasmine-inspired jumpsuit is everything.
All set for a night at the speakeasy.
#Twinning.
Cruella chic.
https://www.instagram.com/p/BMg93cWg25B
What an adorable miss Minnie.
She's ready to check in for a night of Terror.
https://www.instagram.com/p/BMg8CVxjclt
They found their ride.
https://www.instagram.com/p/BMg7-O3gdcm
Ready for their close-up.
https://www.instagram.com/p/BMg44DDBgGq
#SquadGoals.
Just a bunch of Mouseketeers hangin' out.
She put a bow on it, obvs.
https://www.instagram.com/p/BMgL3x1BEEr
#RelationshipGoals.
https://www.instagram.com/p/BMgLAC5B3sZ
A real-life PSL.
This HAIR though — heart eyes emoji, for sure.
https://www.instagram.com/p/BMgI86qAQCO
These guys look so good, it's scary.
Waiting for Jiminy Cricket, we assume.
These looks are so fabulous, they've got us booking our trip to Anaheim for the next Dapper Day at Disneyland in the spring.