Disneyland is celebrating great news with glittery beignets you can eat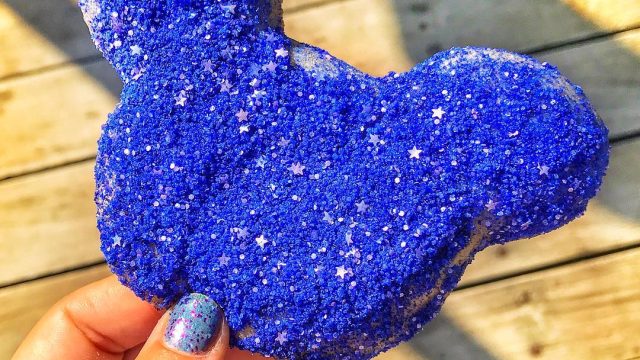 You might remember a Disneyland spectacle called Fantasmic!. The show that combined fire, water, and the magic of light was dismantled in January 2016 when the park decided to add Star Wars land to the docket. But word on Main Street USA is that Fantasmic! is back, and Disneyland is celebrating with edible glittery goodies.
One such glittery goody is the limited-edition purple sparkle Mickey Mouse beignet. Many Disneyland visitors have loved the classic beignet for years. But this blackberry-flavored, glitter-fied creation is truly causing a stir amongst the park (and on social media).
These guys are located at the Mint Julep Bar in New Orleans Square.
Next on the New Orleans Square Fantasmic! menu are super scrumptious Sour Watermelon Churros. These sweeties supposedly taste like Watermelon Jolly Ranchers, according to this Instagrammer.
Plus, get a load of those star-shaped sparkles. If that doesn't scream magic, we don't know what does.
https://www.instagram.com/p/BWp2K-8gSe6
And together, the two sparkle friends paint a picture of a foodie's fantasy.
While you're in the mood for a churro, why not try the S'mores Churro from Critter County? This golden masterpiece is coated in graham cracker crumbs, and comes with a chocolate and marshmallow dipping sauce.
Excuse us, is this level of goodness even legal?
https://www.instagram.com/p/BWqAExzgqxA
We're so excited that Fantasmic! is back to celebrate Disneyland's 62nd birthday. The show will premiere this summer and offer new mist screens, projection technology, and scenes inspired by some of Disney's classic films like Aladdin.
So get yourself some Fantasmic! sweet treats, and keep your eyes peeled for the show's official start date. It's bound to be as glittery and good as the desserts Disney is celebrating with.