Hurricane Irma is heading right for Disney World, but don't freak out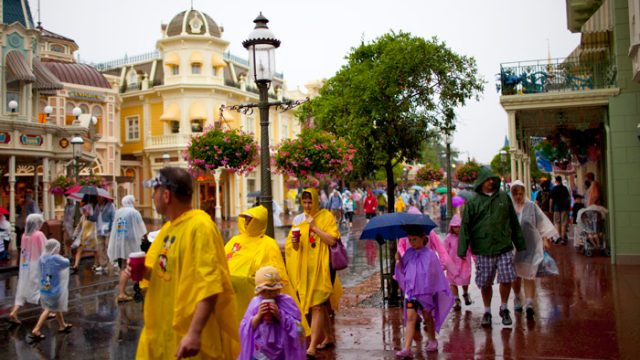 It's that time of year again: Hurricane season. We're all still reeling from the devastation Hurricane Harvey left throughout Texas and the southeast, and now there's another storm heading toward the continental United States and Puerto Rico — and this one could possibly be even bigger and cause more damage. And it's predicted to strike Florida pretty hard, including the Orlando area, home to Walt Disney World.
Currently, Hurricane Irma is a Category 5 storm, and yes, that is the most severe storm. According to CNN, Irma's currently got 185 mph winds — and to be considered a Category 5, winds from the system have to be at least 157 mph, so Irma's well above that. Florida has started bracing for the oncoming storm, and designated evacuations are taking place in the Florida Keys, as well as along the coast. Florida's governor, Rick Scott, has declared a state of emergency for every county, including Orange and Osceola Counties, where Disney World is located.
Even though Disney World is roughly 60 miles away from the coast, it's still going to be affected should Irma make landfall (and it's almost certain that it will).
Now, keep in mind that this is not the first time a hurricane has hit Florida, and it won't be the last time, either. Disney World — along with the surrounding theme parks, like Universal Studios Orlando and Sea World — are well equipped to deal with this kind of weather. They also have policies in place to keep you safe AND help you out if your trip is canceled.
According to Disney World's website:
"If a hurricane warning is issued by the National Hurricane Center for the Orlando area—or for your place of residence—within 7 days of your scheduled arrival date, you may call in advance to reschedule or cancel your Walt Disney Travel Company Magic Your Way vacation package and most room only reservations (booked directly with Disney) without any cancellation or change fees imposed by Disney."
If you're traveling to The Happiest Place on Earth over the next week, yes, you CAN call and cancel your reservations with no penalty. If you're headed to the theme park regardless of weather (and listen, you do you), you can sleep better at night knowing that all structures at Disney World are built to withstand hurricane winds. Also, if you travel to the area and then get stuck there — like, say you're flight is canceled trying to return home — Disney World has designated shelter locations to house stranded guests.
Right now, Disney World hasn't altered their operating hours, and it's business as normal through the rest of the week. Should the weather quickly intensify, the park might close early so be sure to keep up to date with Disney's updates via their Twitter feeds. Stay safe, Mickey, Minnie, and everyone else in the Sunshine State.