There's going to be a new nighttime holiday show at Disney World, and we want to go to there
The holidays are fast approaching, and it's time to start figuring where (and with who) you're going to celebrate with for the season. If you're still trying to figure out out — and hey, it IS only October — may we suggest celebrating at Disney World with Mickey Mouse?
Disney has long transformed the parks into winter wonderlands come November-December (or, about as ~wintery~ it can get in 95º weather), and the big holiday event is seeing Cinderella Castle covered in twinkling, snow-like lights. Now, though, it's got some stiff competition because Disney World is transforming Hollywood Studios into a brand new festive destination, and our bags our packed.
The Disney Parks Blog just revealed that starting next month, you can experience Jingle Bell, Jingle BAM!, "show comes to life on, above and around the Chinese Theater [located at the end of Hollywood Blvd in Hollywood Studios) with state-of-the-art projections, special effects, fireworks and a rousing seasonal musical score."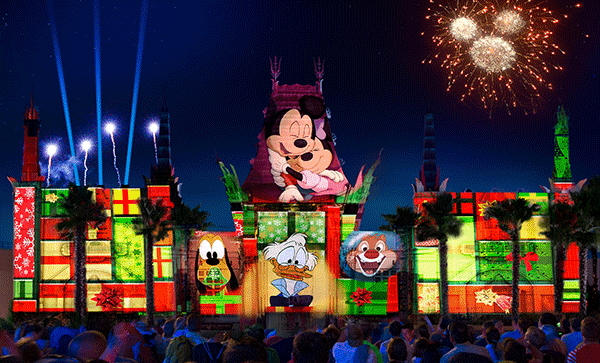 With Sorcerer Mickey's big blue hat now gone (RIP, we miss you…sort of) there's now a clear view right through the heart of Hollywood Studios, which makes the Chinese Theater — home of The Great Movie Ride ride — the perfect place to string up some Christmas lights, rig up some projectors, and shoot off fireworks from the roof. According to the Disney Parks Blog, you'll be able to see all your favorite classic disney characters come to life during this show, along with Beauty and the Beast, and Nightmare Before Christmas, of course.
This sorta fills the giant hole in our hearts that used to hold the Osbourne Spectacle of Dancing Lights (RIP, WE MISS YOU SO MUCH). The festivities kick off on November 14th, and run through December 31st.
https://www.youtube.com/watch?v=8t2UfBhOWhA?feature=oembed