Disney World is going to have a holiday drone show this year, and what the what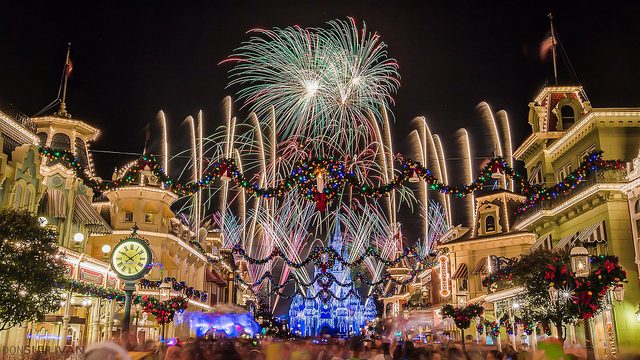 As the winter season quickly approaches, Disney World in Orlando, Florida is busy decking the halls for the upcoming holiday season. While in years past they've always had a surplus of holiday decorations, along with shows, twinkling lights, character meet and greets and so much hot cocoa, this year they're rolling out something brand new: drones. Festive holiday Disney World drones, that is.
Soon, when you look to the sky at Disney World, you won't just see castles, fireworks, and Tinker Bell, you're also going to see drones, and this sounds amazing and crazy at the same time.
Earlier this year, we learned that Disney World actually filed a paten to bring drones — or, what they're being called at Disney, "Flixels" — to the sky. According to these initial reports, these Flixels were designed to fly in "geometric shapes" and "'magically' [incorporate] into Disney story elements that engage and inspire children and their families." At the time, we were like THIS SOUNDS COOL.
Now, we're actually seeing it happen, and you're damn right it is cool. Disney just released a quick look at exactly what these flying Flixels will be used for, and oh my gosh, our bags are packed because we need to see this IRL.
https://www.youtube.com/watch?v=ZjnXWe-cDFo?feature=oembed
They'll be part of a new holiday celebration coming to Downtown Disney Disney Springs. It looks like these Flixels are not only going to CHANGE COLOR, but then when taking to the night sky will form a TREE SHAPE (??!!). So they're like fireworks, but better, because they're drones, and the future is now.
This is just the first glimpse at exactly what's going to happen in the sky over Disney Springs in the coming months. But from this tiny snippet, we know one thing is clear: The holidays at Disney will never be the same.