Disney World has finally changed a really sexist portion of its Pirates of the Caribbean ride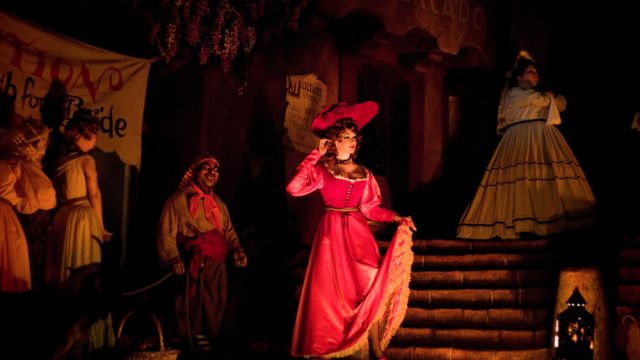 Spoiler alert: It's 2018. Family theme park rides probably shouldn't feature scenes of women being sold into marriage against their will. But that's exactly what the animatronic pirates in Disney's Pirates of the Caribbean attractions have been doing to their female robot counterparts for decades — until this week, anyway. Yes, the ride has undergone a long-overdue update, and the new version, which shows the women helping auction off goods instead of brides, officially opened at Disney World on Monday.
Disney first announced the scenes would be swapped on the popular ride back in June. The original scene, dating back to the ride's debut at Disneyland in 1967 and Disney World in 1973, famously included a red-headed female character being auctioned off. In the revamped ride, "Redd" is the one doing the selling. (Get it, girl.)
This isn't the first time Pirates has decided to tone things down when it comes to topics of sex and the treatment of women displayed throughout the ride. In another scene, men used to chase women while they ran away. Now, the women are chasing the men. Elsewhere, a character that once appeared tired from too much sex became a character who was tired from too much food.
According to the Disney Parks blog, Disneyland Paris did a similar makeover to the auction interaction last year, and work on Disneyland's Pirates in California will get underway on April 23rd. At Shanghai Disneyland, the ride got a high tech upgrade in 2016, incorporating digital projections and more sophisticated animatronic figures, plus visitor boats that can move in multiple directions.
Any changes to an OG ride like Pirates (it was the last attraction Walt Disney himself worked on before his death) is going to ruffle some Disney die-hard feathers. Particularly as Pirates and the movies and mythology it's spawned over the years have taken on a life of their own. But the House of Mouse is standing by its founder's creed to "keep moving forward," and honestly, it's about time.