A former Disney World Goofy took to Reddit and revealed some insane true stories about life at Disney Parks
If you're a fan of Disney World, or Disneyland for that matter, you probably love stories about the inner workings of the parks and what happens behind the scenes. Tbh, who doesn't?! Now, a former Disney World Goofy took to Reddit and revealed some insane stories about life at Disney Parks, reported Quartz, and we can't stop reading the thread. Remember, you've been warned.
Goofy has always been one of our faves (it's tough to pick just one!).
In a Reddit AMA (Ask Me Anything) on December 8th, redditor Ihaveanotheridentity posted that he worked for the theme park for over 25 years, and he played Goofy for over 20 of them, beginning in 1996. Btw, ICYMI, Walt Disney World is the largest of the Disney theme parks, so talk about pressure. Nbd, amirite?!
Though many of Ihaveanotheridentity's answers to people's questions will still make you love Disney, some of the tidbits may surprise you.
Via Reddit, Ihaveanotheridentity shared many Goofy stories and even photos of himself as the character, both with and without a costume. But how do we know if this man was really Goofy? Reddit's moderators verify the AMA identities, according to Quartz.
Here's one of the pictures that Ihaveanotheridentity shared with Reddit.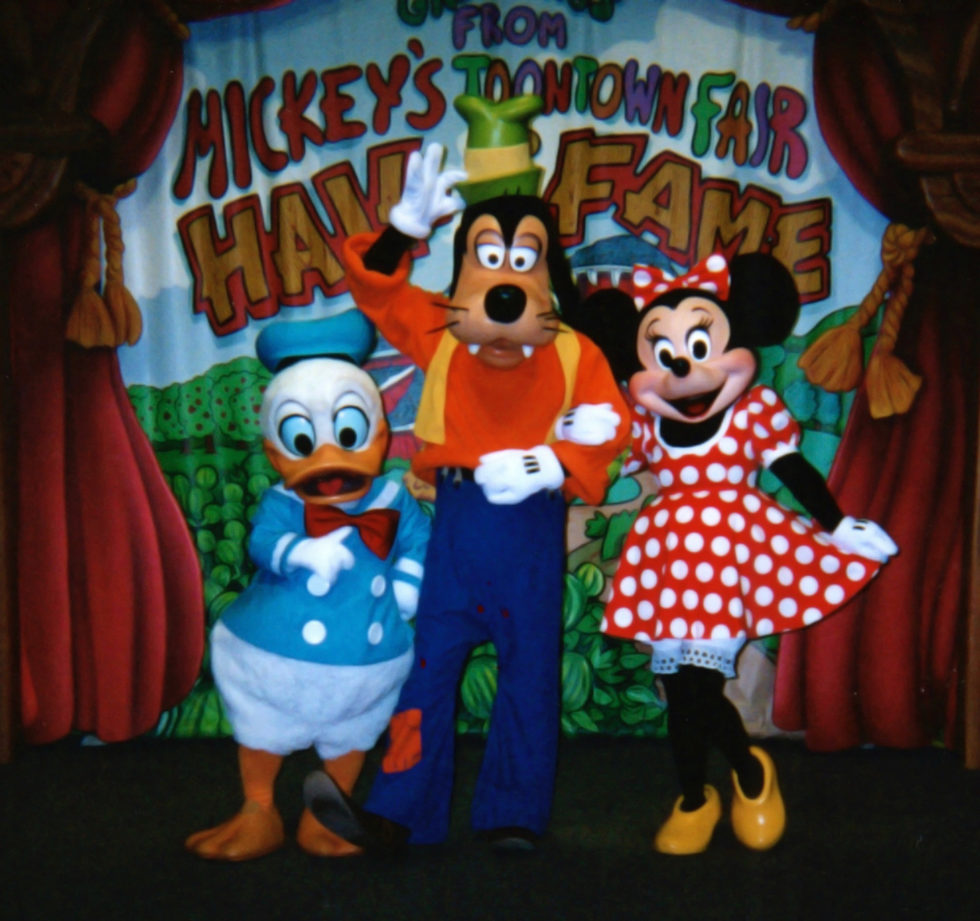 Cuuuute! Of his time with Disney World, Ihaveanotheridentity wrote that he "Loved it then and I love it now."
So why did he stop playing Goofy? Apparently, he was fired (!) after an incident with Donald Duck — Goofy signed his name on a Donald Duck hat, to the dismay of the duck. As Goofy tried to get Donald Duck back to his position, "a little kid ran out from behind the curtain at Pete's Silly Sideshow and we knocked her on her butt," said Ihaveanotheridentity. "The kid was fine and no one complained but Disney didn't really appreciate me dragging the costume on the carpeted floor so they terminated me…"
Yikes! Not what you expected? Neither did we. However, rest assured — many of the other stories Ihaveanotheridentity shared on Reddit were lighter, fascinating, and more heartwarming.
And here are a couple more pics Ihaveanotheridentity shared, like when Goofy had to bring in a plane for a press event.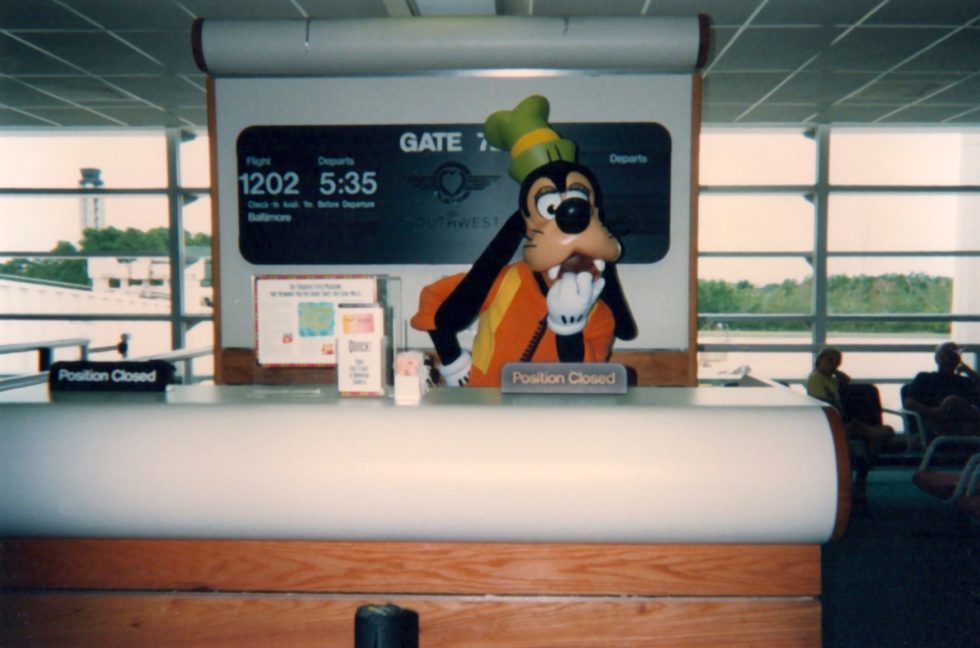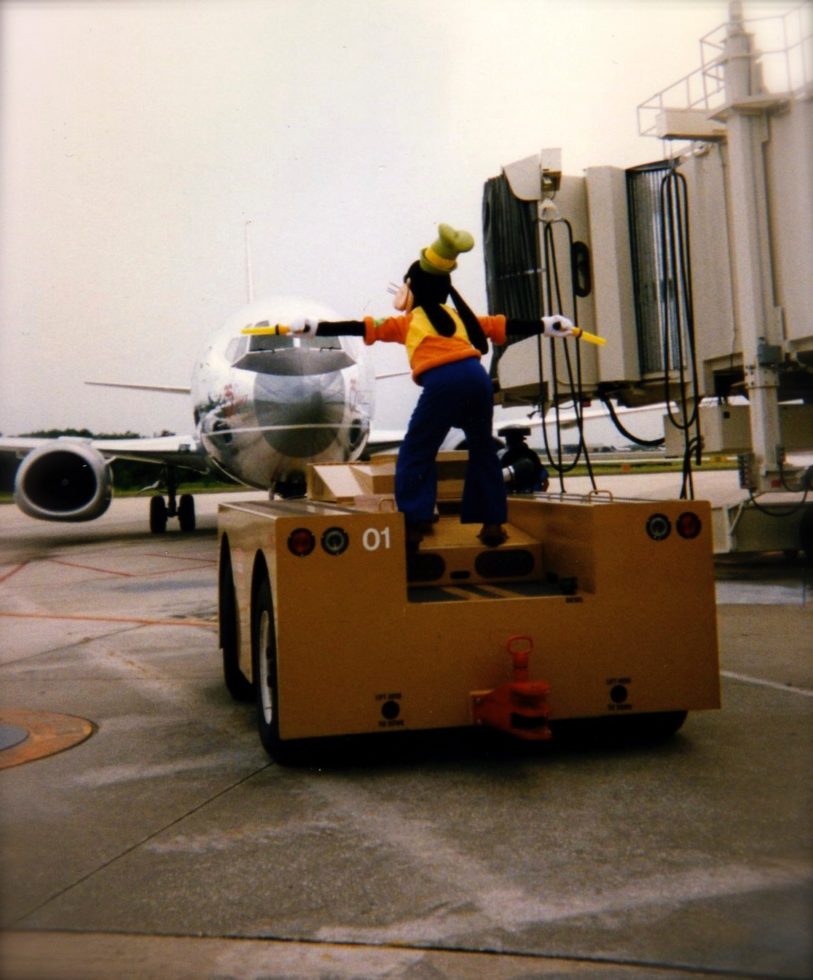 Fun-ny!
So what are some of the other stories from the Reddit thread?
When someone asked Ihaveanotheridentity about the strangest thing he saw in the back-of-house areas, he said, "Oh my god I could go on for days about that. One thing that stands out was a special event where they needed 16 Mickeys all set out in various rooms and seeing all of them backstage was really weird.
Ha, can you imagine?!
Then there was the time Ihaveanotheridentity helped a boy via the Make-A-Wish Foundation. As a result of a birth defect, he had no muscles in his neck. But what did he want? For Goofy to hold him.
Awwwww. Excuse us while we grab some Kleenex!
And hold onto that Kleenex, because this story's also a tearjearker. There was the time that "stands out above all the rest," Ihaveanotheridentity wrote on Reddit.
"It's the reason I left a good job as a VIP Tourguide and moved to the Character Department, he said. "I was working City Hall one day when two guests came in with two little girls. One was in a wheel chair and the other one looked like she had just seen death. Both were cut and bruised and the one in the wheelchair had her arm in a cast...
The women with the girls turned out to be nurses from a local hospital. Ihaveanotheridentity was asked to refund the girls' tickets, a big no-no. Only, the girls were from overseas and their parents were killed in a car accident on the way back from the park (!). The girls needed the ticket money to get back home.
Ihaveanotheridentity refunded the tickets, then did everything in his power to try to lift the girls' spirits, including giving them a private tour of the park and a great view of the Mickey Mania Parade.
You ~have to~ read Ihaveanotheridentity's account of the whole story on Reddit, but the girls watching the parade — and meeting Mickey Mouse — changed everything for him.
"It was there that I honestly saw true magic… The girls were excited now. They had forgotten about death. They were lost in a magical world and I couldn't believe I was watching it unfold in front of my eyes… I realized that as much as I liked helping guests at City Hall, the true magic of Disney was in the character department. I auditioned, transferred and never looked back. Thanks for letting me relive this. It was a special day for me.
Awww. Excuse us while we go grab some more Kleenex as we, too, continue to believe in the magic of Disney…