This Disney World employee left the sweetest note on a guest's receipt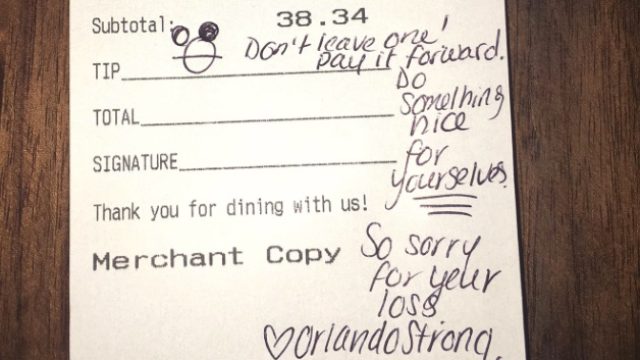 The tragic shooting at Pulse nightclub in Orlando is still a fresh wound in the collective consciousness, but the touching stories of compassion that we're hearing in the wake of such a terrible tragedy continue to give us hope.  Twitter user @Raynemazur33 shared just such an experience over the weekend after she had dinner at a restaurant in Disney Springs.
When the server at the restaurant noticed that Rayne's dinner companion was wearing a t-shirt in honor of a friend who had passed away in the shooting last weekend, she brought them ice cream as a gesture of sympathy for such a difficult week. But that's not all. When the bill came, the blank space for the tip had been filled in with a little drawing of Mickey Mouse ears and a touching note from the server. "Don't leave one!" she wrote, "Pay it forward. Do something nice for yourselves. So sorry for your loss. ❤️ OrlandoStrong." false
On Twitter, Rayne said the note brought both of them to tears and concluded by writing, "I love this city so much."
Orlando's response to the heartbreaking events of last weekend inspires us every day. The city is a wonderful place and will never be defined by the heartbreaking acts of one person. We stand with you, friends. Always.