Here's what Disney World looks like on the busiest day of the year — aka New Year's Eve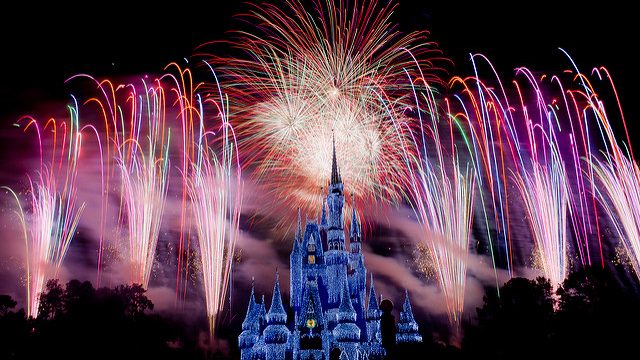 I'm about to give you the most important piece of Disney World information you will ever receive: Do not go to Disney World on New Year's Eve.
I'm serious!! While, yes, it does sound like the best place to be — because who doesn't want to end the year surrounded by Mickey, Minnie, some princesses, a Castle, and a surplus of Dole whips? — New Year's Eve is actually the busiest day of the year for the theme park. That means, so many people, so many crowds, so many long lines, and did I mention crowds?? It is a very intense (but, magical) end-of-year celebration.
Don't believe me? Then you need to see some pictures of exactly what the crowds look like on the last day of the year. If you thought visiting during the summer and/or a school vacation week was busy, you haven't seen anything yet.
Yesterday, Magic Kingdom actually closed to capacity for a time being  — and that means there are SO MANY PEOPLE in the park, no one else is allowed in. Do you realize how many people Magic Kingdom can hold? A LOT. Here are just some of them: false
The DJ on the Castle Stage in this video even says "it is going to be crazy getting out of here" and heed his warning.
Magic Kingdom is not the only park with wall-to-wall guests on NYE. Epcot also does a big fireworks show, and that park is actually even BIGGER than Magic Kingdom. Bigger park = way more people.
See? I told you more people. SO many more people. Disney never releases just how many people are in the park on any given day, but for New Year's Eve we can all assume that there are more than 100 people there, and less than a million. Whatever the exact number, it is a lot.
As for Hollywood Studios, they do a fireworks celebration but it's not as big; there are no fireworks at Animal Kingdom, because the animals have to go to bed.
Now do you believe me now about avoiding Disney World on New Year's Eve unless you LIKE crowds? If you're still like "YOLO, I'll visit Disney World whenever I want you can't tell me what to do, see you there next NYE " at least hire a VIP Tour Guide. Trust me.