For the first time ever, Disney World will be closed for TWO DAYS due to Hurricane Irma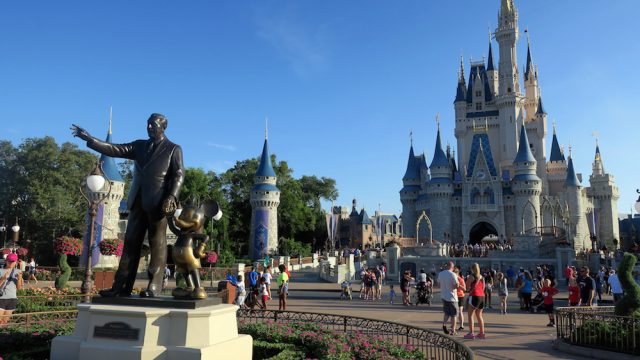 For those wondering if they'll be able to use their Toy Story Midway Mania Fastpasses on Monday afternoon, we've got some news for you: Disney World will be closed.
While Hurricane Irma has recently been downgraded from a Category 5 storm to a Category 4, it is still carrying with it hella strong winds and an insane amount of rain. Over the past day, Disney World — which is located roughy 60 miles from the coast of Florida — has already started altering plans for the weekend, like canceling Mickey's Not So Scary Halloween Party, along with outdoor dinner packages. The storm is expected to make landfall in Florida as early as Saturday, and no, that's probably not a great time to go to the Disney World parks.
Just like they did last year when Hurricane Matthew hit the Sunshine State, Disney World has decided to close down Magic Kingdom, Epcot, Hollywood Studios, and Animal Kingdom, along with the water parks and Disney Springs, on Sunday, September 9th — and also Monday, September 10th. This is the first time ever that Disney has closed down for two consecutive days.
As they announced on their webpage Friday afternoon, starting Saturday afternoon, Disney World will start closing down the parks. Animal Kingdom and Hollywood Studios will close at 7 p.m. EST, and Magic Kingdom and Epcot will be closed at 9 p.m. EST. ALL nighttime performances are canceled (and this includes Rivers of Light, Fantasmic, the Star Wars fireworks, Happily Ever After fireworks, and IllumiNations).
It's expected that operations will return to normal on Tuesday, September 12th — but that could still change depending on so many different factors, like if it's still raining, if the winds are too strong and, (oh gosh no) if there's been any sort of major damage done to Disney Property. Disney isn't going to open the theme parks back up if there's any concern for safety.
If you are reading this right now and you are actually at Disney World, be sure to check with the cast members there too see what procedures will happen in the park and/or at your hotel. Stay safe, everyone.