If you feel like communicating the old-school way, these Disney Villains postage stamps have you covered
Why don't Disney Villains get as much love as their heroic counterparts? Without them, would Disney movies be as interesting as they are? Maybe this is an unpopular opinion, but to us, Disney villains are the most important characters in any given film, and it's time they got some appreciation — and the United States Postal Service is doing just that.
On Friday, the USPS announced that they'd be launching a Forever Stamps collection dedicated to Disney's most delightfully evil characters. Want to pack a punch in a letter to your landlord after they refused to give you back your deposit? Well, now you can slap on a stamp of the mischievous Ursula!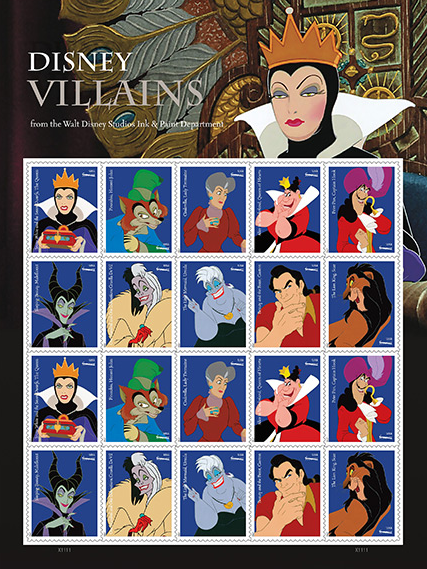 "The Postal Service is highlighting the Disney Villains and the pioneering spirit of the Ink and Paint Department that brought many of these characters to life," Postmaster General Megan J. Brennan said. "These Forever stamps are our way of saying Disney Villains will forever entertain us and serve as a tribute Disney's artistry and storytelling skill."
USPS has done a number of Disney collaborations, but none quite like this. Disney Villains lead notable lives in which they're perpetually failing, yet somehow find the will to continue on with their evil plots. In some ways, their determination is inspiring. What could we accomplish if we pushed past our failures with the vigor that they have? Right, exactly.
So if you're a fan of Disney Villains, it might be time to start snail mailing again.