Disney and Starbucks just teamed up for the cutest cup collaboration of our lives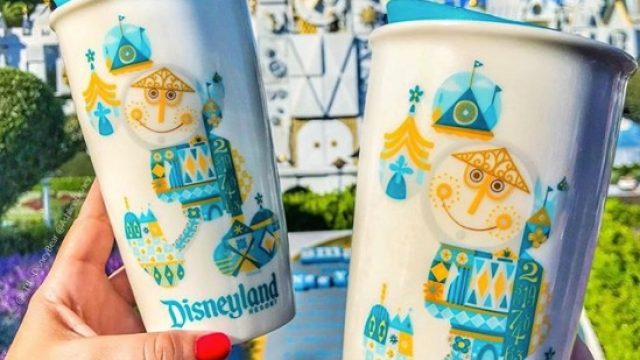 Coffee-loving Disney fans rejoice! Because Starbucks and Disneyland just teamed up to make the ceramic travel mugs of our freaking dreams. The mugs are apparently inspired by the park's "It's A Small World" ride.
Popular Disney blogger KT the Bear first broke the news on her Instagram, sharing a picture of the adorable design with the caption:
 "🌈✨💕🙌🏼#Starbucks has done it again! 💙Small World on Fleek! 💘🌈✨These are the Cutest New ceramic travel mugs from #Disneyland @starbucks Starbucks 😍 $21.99 and worth every penny!!"
Okay, are you ready to see these babies for yourselves? Take a look.
https://www.instagram.com/p/BZeqnYaAz8k
How magical are these things? And Cosmopolitan.com pointed out that this isn't the first time Disney and Starbucks have collaborated. Just last month they released their "It's A Small World" tumblr collab for $19.99.
Okay, THAT CASTLE IS ADORABLE, just fyi.
According to KT, the latest travel mugs are $21.99 and can only be purchased at the park in the Market House Starbucks on Main Street (it also apparently comes with a teal lid #ooohhahhh).
This is further proof that Starbucks has absolutely been crushing it creatively this year. As many a java-lover will know, they recently came out with brand new fall designs for their disposable cups, featuring autumnal colors and pumpkins, owls, and pie. Needless to say, the general public is giving them two enthusiastic thumbs up.
Now excuse us while we quickly dash off to Disneyland….we have some important mug-related business to attend to.