Disney's Newest Female Character is Plus-Sized, and Fans are Getting All the Feels
The worldwide media brand is breaking new ground with a lead character who doesn't fit the usual Disney Princess mold.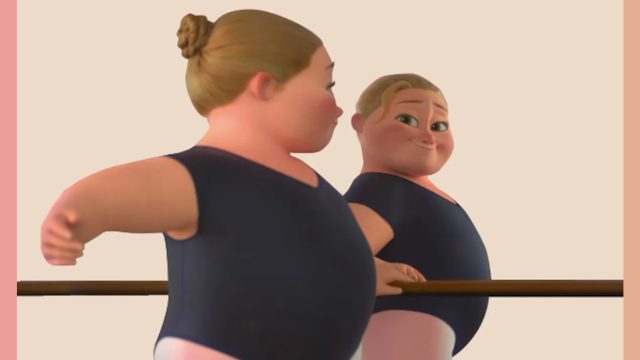 Disney continues to branch out onto more diverse territory with the introduction of its first plus-sized lead character. While the megabrand is upping its diversity game both with their animations as well as live action films, fans can't ignore that the Disney Princess archetype has been around since "Snow White" first debuted in 1937.
For decades nearly all of these characters were portrayed the same — thin, white and classically beautiful. But thankfully that's changing as the company begins to produce content aimed at the multitude of audiences it reaches. 
The short film, entitled "Reflect," centers around a young ballet dancer who is challenged by her own qualities that many feel don't fit that of her favorite hobby. As she dances, the mirrors act as the villain and start to take over as she battles her body insecurity. She eventually destroys them by dancing anyway and celebrating herself as she is.
RELATED: 20 Best Date Night Movies to Watch With Your Partner
As a plus-sized character, she represents many issues children and teens her own age face — pressure to be perfect based on body image standards, especially those set in the world of dance. Additionally, this is truly the first time Disney has created a plus-size protagonist, front and center.
If you think back on body diversity in Disney films of the past, typically only villains (like Ursula from "The Little Mermaid") and comedic relief figures (LeFou from "Beauty and the Beast") were drawn with more weight than others.
Jasmine broke ground as the first official Disney Princess of color in "Aladdin." "Pocahontas" and "Mulan" followed shortly after, but it would take nearly a decade for the fantasy media brand to create their first Black princess, Tiana, from "The Princess and the Frog." Films like "Encanto," "Coco" and "Soul" have all been praised for their diverse storylines and character representation.
While the main character in "Reflect" is only part of a short film, it's still a breakthrough in the portrayal of Disney characters overall. The brand has seen positive reactions from films that tackle real-life issues viewers can relate to, such as "Inside Out," which created a story around expressing your feelings, and "Turning Red," a film that centers around puberty, growing pains and menstruation on the big screen.
"Reflect'"s protagonist overcomes her doubts and fears through dance, and finds strength and acceptance of herself along the way. The short film already has viewers feeling all the feels and getting very emotional.
"Do recommend for anyone that struggles with the image they see in the mirror," says Twitter user @vintage_katie_. "So, everyone. But this is especially for those of us that society shuns for having a body that doesn't match the alleged 'perfect' image."
"I think Reflect from Disney looks awesome," adds Twitter user @sith_maestro. "Can't wait to watch it with my little ones. New trends from Disney are going well honestly."
The film was produced by Short Circuit Experimental Films, a media think-tank where creatives can pitch their ideas and those chosen get to work with Walt Disney Animation Studios artists. Each film is an episode in the Short Circuit season category on Disney+. 
Disney+ users can now stream "Reflect" and see the magic for themselves.
Kat is a born and raised New Yorker exploring the world as she writes, eats, and everything in between.
Read more