This video imagines Disney princes IRL and we are drooling!
Have you ever wondered which of your favorite actors could actually be a prince? We're not talking about becoming the Prince of England or anything, since Prince William and Prince Harry already have that down, we're talking about Disney princes.
There are so many dreamy actors who could (and have) played on-screen princes, but in this post were looking at stars who could actually be some of your favorite Disney princes, or at the very least play them in a live-action version of our Disney favorites.
For example, Ryan Reynolds is SO Prince Phillip. Check out the top 10 actors, according to MsMojo, who are destined to be one of the iconic princes based on their many amazing characteristics.
https://www.youtube.com/watch?v=OIRgUQeZnO8?feature=oembed
10. Darren Criss as Prince Florian — Snow White
According to MsMojo, Criss is "swoon-worthy while still being approachable," which is totally true. The actor first caught our attention on Glee, where he sang and won over many people's hearts, including Kurt Hummel. Prince Florian, also sang, which is one of the many reasons Snow White loved him, that and the fact that he woke her up from her deep sleep.
9. Zachary Levi as Flynn Rider —Tangled
Levi is actually the voice of the Disney bandit, so clearly he could and should be Flynn Rider IRL. He has the brown locks, charming attitude and can pull off all the witty banter as seen in some of his previous roles including, playing Chuck Bartowski on Chuck for five seasons.
8. Godfrey Gao as Captain Li Shang — Mulan
MsMojo credits Gao's role as Magnus Bane in The Mortal Instruments: City of Bones as the reason for him being able to pull off the lovable leader, Shang, and we agree. He has incredibly good looks and clearly can play a dark and edgy character, so he kind of is Shang.
7. Zayn Malik as Prince Naveen — The Princess and the Frog
Come on, like anyone else could be Prince Naveen? Malik is all about the ladies and has ridiculously good looks, so he is basically already Naveen. Plus, throughout The Princess and the Frog, Naveen dances and sings in the streets and has a really good time, which Malik could easily do based on his musical background.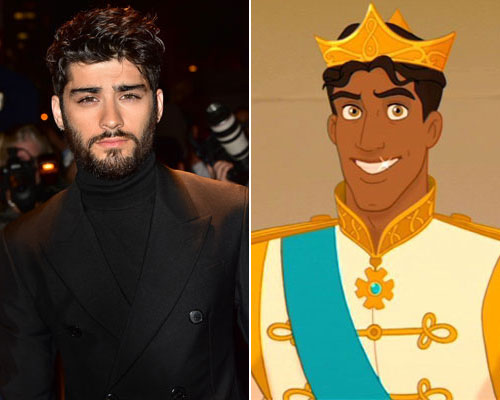 6. Tyler Posey as Aladdin — Aladdin
The Teen Wolf star is already a pro at stunts, so he is one step closer to being the ideal Aladdin. Posey is also a total goofball in real life and doesn't take himself too seriously, which is one of Aladdin's best traits. Oh, and he's extremely handsome, so he could sweep any girl off her feet, including Jasmine.
5. Chris Pratt as Kristoff — Frozen
This one is clearly a match made in heaven! Pratt is a lovable star, who is totally dreamy, just like the Frozen character. "Rugged, charming and more than a little goofy," MsMojo describes Pratt as, and were pretty sure they are also describing Kristoff. He's the perfect lead, just perfect.
4. Ryan Reynolds as Prince Phillip — Sleeping Beauty
Reynolds is the king of the romantic comedy, so this role would be a no-brainer. In real life he is already the Prince Phillip to his wife, Blake Lively's, Princess Aurora, so this is just art imitating life. He is SO handsome, and has played superheroes, so he's got the chivalry thing down, so this one is spot on.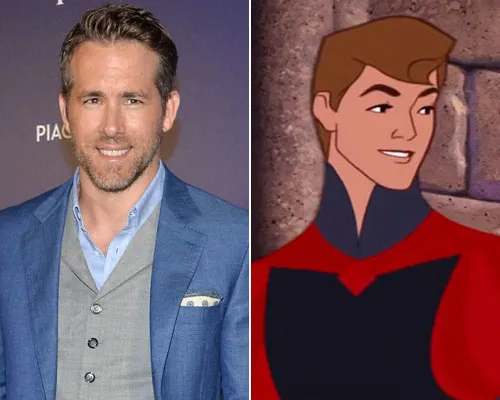 3. Chris Hemsworth as The Beast — Beauty and the Beast
Hemsworth is both lovable and fierce as an actor, so he could easily handle being The Beast. Could you imagine seeing him as the scary creature and then transforming into Prince Adam with a ripped shirt and his golden locks? It would be ah-mazing.
2. Matt Bomer as Prince Eric — The Little Mermaid
The White Collar actor is a total dreamboat, just like Prince Eric. He is sweet, charming and his eyes are so pretty that it's hard to look away. All of these characteristics describe both Bomer and Prince Eric. Bomer can even sing, in case Ariel needs a duet partner!
1. Henry Cavill as Prince Charming — Cinderella
Cavill's already been Super-Man, so why not Prince Charming? His accent and devilishly good looks make him ideal for this role. Plus, who wouldn't want to dance with him at the ball?