Here are all the Disney movies coming out in 2018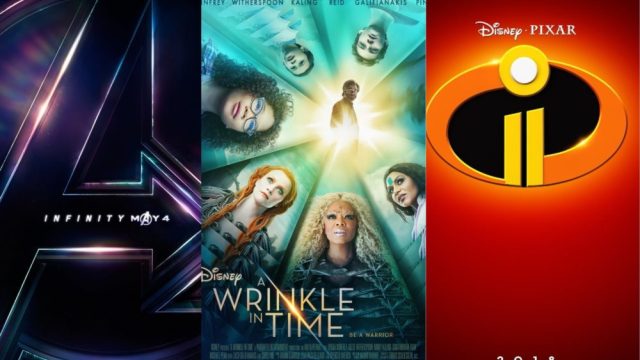 From beginning to end, Disney had a pretty whirlwind year. The conglomerate hit a high note in March, releasing the live-action Beauty and the Beast, which currently sits as the highest-grossing film of 2017. Additionally, Disney released the much-loved Coco, the lauded Thor: Ragnarok, and saw Elizabeth Swann and Will Turner reunited in Pirates of the Caribbean: Dead Men Tell No Tales.
To cap off a pretty stellar 12 months, The Last Jedi — the eighth episode in the beloved Star Wars franchise — opened last week and is already being hailed by critics as one of the best Star Wars films ever made — which sounds like the perfect holiday gift for director Rian Johnson and Lucasfilm. Additionally, it seems the house of mouse is going to get a bit more crowded as Disney confirmed it's buying the majority of the entertainment assets of 21st Century Fox, including its film and television rights as well as its major film studios.
Yep, things went very well for Disney in 2017. And 2018 is shaping up to be a phenomenal year too, as the Disney-backed films slated for release are many of the most highly-anticipated to come. They are…
Black Panther — February 16th
https://www.youtube.com/watch?v=xjDjIWPwcPU?feature=oembed
Following the events in Captain America: Civil War, T'Challa (Chadwick Boseman) returns home to Wakanda as its new King. But when Wakanda is faced with two enemies, each seeking to destroy it, T'Challa (as Black Panther) teams up with CIA ally Everett Ross and the Dora Milaje to save his home — and the world. Lupita Nyong'o, Michael B. Jordan, Danai Gurira, Daniel Kaluuya, Winston Duke, Letitia Wright, Martin Freeman, Andy Serkis, Angela Bassett, and Forest Whitaker also star in the film.
A Wrinkle in Time — March 9th
https://www.youtube.com/watch?v=UhZ56rcWwRQ?feature=oembed
Misfit teen Meg Murray (Storm Reid) goes on an adventure of a lifetime with her little brother Charles Wallace and friend Calvin as they tesser through space and time to rescue Meg's missing father, all while being guided by three celestial beings. Chris Pine, Gugu Mbatha-Raw, Michael Peña, Zach Galifianakis, Reese Witherspoon, Mindy Kaling, and Oprah Winfrey star in the epic adaptation of the 1962 novel by Madeleine L'Engle.
Avengers: Infinity War — May 4th
https://www.youtube.com/watch?v=6ZfuNTqbHE8?feature=oembed
After Thanos descends on Earth looking for the rest of the Infinity Stones to complete the gauntlet that will allow him to bend reality, the Avengers — still divided and broken following the events in Civil War — must reunite and team up with the Guardians of the Galaxy to stop him. It may just be the most epic event of the year and stars everybody — including three guys named Chris, two British Toms, and one Paul Rudd.
Solo: A Star Wars Story — May 25th
Dubbed a space western by Lucasfilm president Kathleen Kennedy, the film follows a young Han Solo and Chewbacca on their endeavors — including winning the Millennium Falcon from Lando Clarissian and, potentially, that fateful Kessel Run. Directed by Ron Howard, the film stars Alden Ehrenreich as the titular roguish smuggler as well as Donald Glover, Emilia Clarke, Woody Harrelson, Phoebe Waller-Bridge, Thandie Newton, and Joonas Suotamo.
The Incredibles 2 — June 15th
https://www.youtube.com/watch?v=ZJDMWVZta3M?feature=oembed
Picking up directly where the 2004 film left off, a new villain called The Underminer has arrived to wreak havoc on their city. After a chain of events forces Helen Parr to once again don her Elastigirl persona, Bob Parr is left at home taking care of the kids, a challenge in its own right. But in order to stop The Underminer from hatching his evil plan, the whole Parr family and Frozone must join in on the Super action. Craig T. Nelson, Holly Hunter, Sarah Vowell, Samuel L. Jackson, Huck Milner, and John Ratzenberger all star in the film.
Ant-Man and the Wasp — July 6th
Following the events of Avengers: Infinity War, Scott Lang is tasked with a new mission by Hank Pym to save his once-presumed dead wife from the quantum realm with Pym's daughter Hope van Dyne accompanying him as the new Wasp. The film stars Paul Rudd, Evangeline Lily, Bobby Cannavale, Judy Greer, Michael Peña, Michelle Pfeiffer, Laurence Fishburne, and Michael Douglas.
Christopher Robin — August 3rd
This live-action film follows an adult Christopher Robin, who has lost all sense of imagination since growing up, prompting his childhood friends in the Hundred Acre Wood to come to his rescue to help restore it. Ewan McGregor stars as the titular character, with Hayley Atwell and Mark Gatiss also on-board. Meanwhile, Jim Cummings, Nick Mohammad, and Brad Garrett voice Winnie the Pooh, Piglet, and Eeyore, respectively.
The Nutcracker and the Four Realms — November 2nd
https://www.youtube.com/watch?v=2ktuvx9hrMw?feature=oembed
In this adaptation of E.T.A. Hoffman's beloved tale, Clara is searching for a key that'll open a box containing a special gift from her late mother. At her godfather's holiday party, she finds a thread that leads her to a previously unknown parallel world. She must brave four realms — including that occupied by the evil Mother Ginger — to find her key and restore peace to the world. The extravagant adaptation stars Mackenzie Foy, Keira Knightley, Helen Mirren, and Morgan Freeman.
Ralph Breaks the Internet: Wreck-It Ralph 2 — November 21st
The sequel to the lovable 2012 film sees a Wi-Fi router installed at the arcade and Ralph and Vanellope find themselves exploring everything the internet has to offer as they search for a new part to keep the beloved Sugar Rush game from being unplugged forever. Along the way, the duo run into all the Disney princesses as well as well as various Star Wars and Marvel characters. The sequel stars John C. Reilly, Sarah Silverman, Jack McBrayer, Jane Lynch, Alan Tudyk, and Taraji P. Henson.
Mary Poppins Returns — December 25th
25 years after Mary Poppins took them on their wild adventures, things aren't going so well for Michael and Jane Banks. They're living in the middle of Depression-era England and the death of his wife has left Michael devastated and raising three kids, with some help from his sister Jane. Sensing her former charges could use a little bit of magic in their life, the iconic nanny (now played by Emily Blunt) pays them a visit. Ben Whishaw, Emily Mortimer, Lin-Manuel Miranda, and Colin Firth also star, with Meryl Streep, Angela Lansbury, and Dick Van Dyke making appearances in the film.