Disney parks are selling Mickey Mouse Pride Ears, and our hearts are full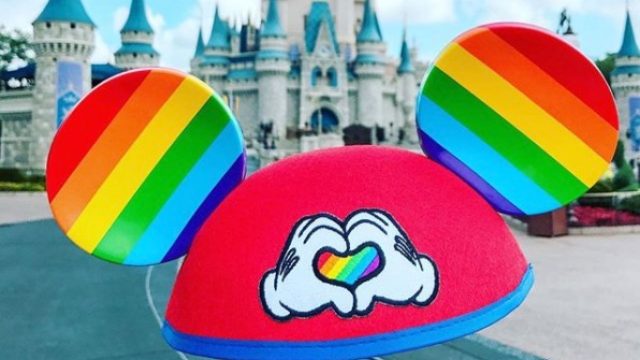 Disney just made its theme park merchandise a whole lot more inclusive. The Happiest Place on Earth unveiled new rainbow-colored Mickey Mouse pride ears, which are now available for purchase at its U.S. theme parks. The ears were recently spotted on Instagram, and our hearts are bursting with happiness.
The Mickey Mouse pride ears are called Mickey Mouse Rainbow Love ears and come in the form of a hat. They offer a red twist on the original mouse ear hat we know and love. But this hat also features Mickey's gloved hands forming the shape of a heart.
A Disney spokesperson told Hornet that the new ears are for sale exclusively at Disney World in Florida and Disneyland in California. They're available at all four theme parks at Disney World, but most of them can be found in the gift shops at the Magic Kingdom. So if you want a pair, check out Fantasy Faire, The Emporium, and The Chapeau Hat Shoppe on Main Street.
The Mickey Mouse pride ears retail for $17 a pair, and are not available online. However, Hornet also reports that the hat can be purchased over the phone by calling 407-939-5277 under the "shopping" option. The item number for ordering over the phone is 400020710710.
https://www.instagram.com/p/BhW1YJ_h6Ia
Disney lovers have already taken to social media to share photos of the Mickey Mouse pride ears in both the Florida and California locations.
YouTuber Joey Graceffa visited Disneyland earlier this week and took a selfie with his boyfriend, Daniel Preda, both posing in the rainbow-themed hat.
The Mickey Mouse pride ears were released just in time for Pride month in June.
We're sure we'll see a ton more rainbow photos as long as the ears are available.
https://www.instagram.com/p/Bh7-DWDBuoW
We're so happy to see Disney taking this initiative toward catering to all customers and visitors of its theme parks. We hope they continue to make more LGBTQ-friendly accessories in the future.