There's a Disney movies March Madness bracket, and it is literally ending friendships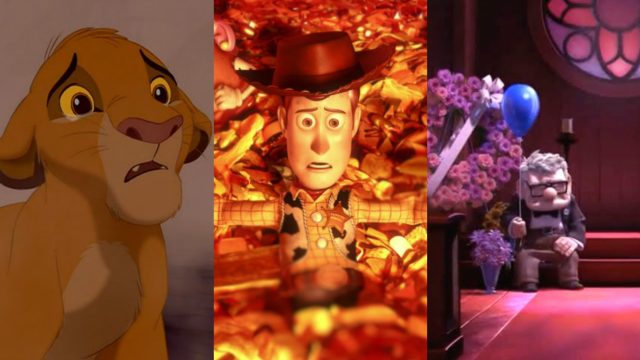 For some ungodly reason, every year millions of people all over the country (including yours truly) fill out a bracket to guess who will win the NCAA college basketball championship in a tournament affectionately known as March Madness. It's an often stressful endeavor for everyone — from the die-hard college basketball fan and the gambler, to the coworker who filled out their bracket based on team colors and mascots.
But this year, the NCAA March Madness tournament isn't even the most stressful bracket, and that's saying something — just ask the millions of people who saw their chances of winning the office pool torpedoed by the dumpster-fire performance by UVA during round one or the continuing surprise longevity of Loyola-Chicago.
No, the anxiety-inducing bracket that's keeping us up at night is the Disney/Pixar bracket.
How to you pit your best friends, siblings, or beloved pets against each other? That's what it's like choosing between Disney and Pixar films over and over again in order to determine that top film. And frankly, it's a choice nobody — not Meryl Streep nor the rest of society — should ever have to make. While other "March Madness" brackets have been making their way around the internet, including those dedicated to the songs of Kanye West and Drake, none have been as divisive and controversial as the Disney/Pixar bracket.
Twitter user @yeeitsanthonyy first uploaded the bracket, which seeded Disney films against each other on the left and Pixar film on the right before facing off in the final round. Their tweet quickly went viral as Twitter began filling out the empty bracket with their picks.
Twitter users were outraged right off the bat at the lack of inclusion of films like The Hunchback of Notre Dame, The Emperor's New Groove, Atlantis: The Lost Empire and a host others — and we totally get that. We would have loved to see what kind of game it would have been if @yeeitsanthonyy had gone the 64-seed NCAA route.
While some decided to incorporate their forgotten Disney/Pixar comrades into the tourney anyway, others went with the chosen seeds and everything from the top picks themselves to the road to number one was filled with drama.
https://twitter.com/udfredirect/status/978098092473049089
false false
But nobody brought more drama than this Twitter user for his flat-out bonkers picks.
Cars 3 before Coco? Sorry Armie Hammer and your suave voice but NEVER!
Friendships were lost, lives were ruined, and we've all lost sleep because trying to determine the best Disney/Pixar film through process of elimination is the hardest thing we've ever even attempted to do.
Personally, I'm taking the Lucille Bluth approach but good luck to anyone risking it all and going for it!