There is a secret seasoning you can get on your Dole Whip when you visit Disney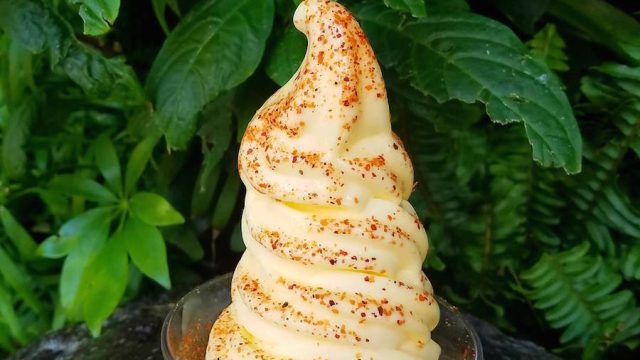 You know how there are just some foods that feel too good to be true? Like double stuffed Oreos, cheese, cupcakes, and of course, Dole Whip. In case you're not familiar with the last one (which SHAME!), Dole Whip is the delicious, fruity equivalent of soft serve — except, ya know, it's made from pineapples. Disneyland and Disney World serve the delicious fruity dessert, with the option of adding pineapple juice for a "Dole Whip Float." And let's just say it's so good, we have dreams about it.
But now, our lives are going to take on a whole other meaning because we just found a life cheat that works with our Dole Whip love.
Tajín has the perfect ratio of spice to salt to lime, ready to go, so all you have to do is add the seasoning atop your dessert of choice and you'll be on your way to flavor town!
The spice actually makes the sweet sweeter, and we can bet there's nothing better than a spicy-sweet Dole Whip Tajín on a hot Disney day.
https://www.instagram.com/p/BUdn24dADup
If you too want to get your Tajín on, then head to Tropical Imports in Adventureland and ask for some of the delicious goodness (but don't actually say that unless you want a confused look!). They'll have your free seasoning, so you can make sure your Disney adventure is as spicy (or as sweet!) as you want.
And don't just feel limited to enjoying this spicy treat with your Dole Whip! You can enjoy it on any and all fruit!
https://www.instagram.com/p/BDe0Yh_mtkN
We know what will be satisfying our sweet tooth next time we're at Disney!