Disney is doing something awesome (and free!) to help combat Zika in the parks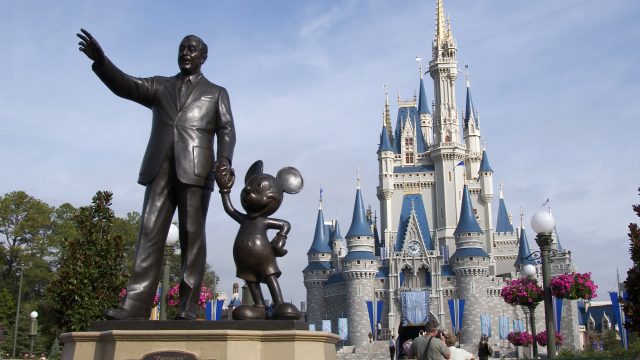 Amid fears of the Zika virus spreading in the Miami area, top theme parks in Florida are taking no risks and assuring guests they can be as safe as possible when in the parks by offering free bug spray — and it's totally awesome.
Theme parks including Walt Disney World, Sea World, Busch Gardens, and Universal Orlando, which are four of the top tourist destinations worldwide, have voluntarily begun offering mosquito repellent to park guests, "in hope of sidelining any fears tourists may have of being exposed to Zika-carrying mosquitoes," according to CNN.
So far, no cases of the Zika virus in the Orlando area have been reported, but experts tell CNN it's "only a matter of time before the bug reaches the Magic Kingdom…Disney is getting set to reassure a key targeted demographic — women in child-bearing years and their partners — that it will have repellent on hand to fend off any of the critters, disease-ridden or not."
In a statement, Disney said, "In an abundance of caution, we are accelerating preventative efforts throughout our property, including providing complimentary insect repellent to our guests along with helpful guidelines from the Centers for Disease Control and Prevention. We have an extensive mosquito-prevention and monitoring program in place, and we continue to work closely with local, state and federal experts on this topic."
Park visitors have already spotted kiosks in all four Disney parks in the Orlando area, along with Disney Springs (formerly Downtown Disney). Guests are encouraged to apply as much repellent as they'd like and are given pamphlets with info on mosquito protection. All Disney resort hotel rooms also now have complimentary bottles of bug spray, which guests are welcome to keep, according to WDW News Today.
Both Sea World and Universal Orlando have followed suit. A Universal spokesperson told CNN, "Universal Orlando already has an aggressive, destination-wide prevention and management program in place for mosquitoes and other environmental issues. And (we) will continue to work closely with local and state officials."
Sea World Parks & Entertainment will be offering guests "complimentary EPA-approved insect repellent" at all of its venues, from Busch Gardens in Tampa Bay to SeaWorld, according to a spokesperson.
We're loving this awesome approach that the parks have taken to help keep guests safe. While there's no way (yet) to completely stop Zika, this little step is going to go a long way.