We're still talking about Disney's first gay kiss — and so is everyone else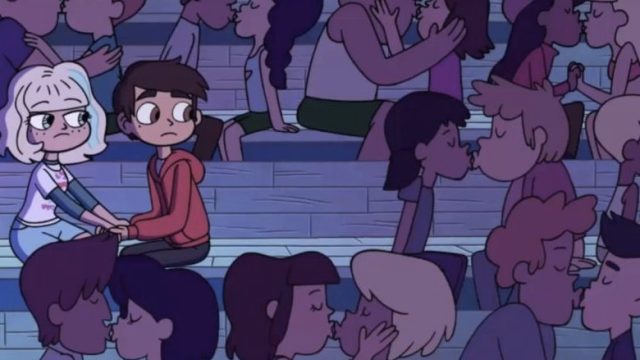 Disney is chockfull of milestone moves these days, especially when it comes to their new feature film Beauty and the Beast. First, we found out that Beauty and the Beast would feature the first LGBTQ plot. A few days later, the news broke that it would also be the home of Disney's first interracial kiss.
But Disney didn't want to leave all the love for the big screen. So in one of its animated cartoons, Disney XD aired the company's first gay kiss.
Though the kisses (there are at least four same-sex couples featured in the clip) are a very small part of the episode, they're causing a big stir. Some organizations are collecting signatures on a petition demanding Disney only show "family friendly" content — but we think this is pretty family friendly.
Just yesterday, we shared Riz Ahmed's case for more representation on TV, and that applies to all kinds of underrepresented people, including LGBTQ characters.
"I really want you to understand how much that meant to someone who doesn't see themselves reflected back in culture," Ahmed said about seeing asian characters and actors. "It's a message that you matter."
Though these are just background characters and not main members of the show's cast, this was an important step for Disney to take.
And there were a lot of people really excited about it.
The kiss even inspired award-winning American figure skater Adam Rippon to write an entire thread on the subject, talking about his experiences seeing — and not seeing — gay people on screen. false false false false false
Rippon is spot on when he says, "Normalizing our differences will help us understand each other. It will help us to realized that we all aren't that different after all."
We're so excited for all the gay kids who watched the episode.
Hopefully it'll reinforce that they have a place in our world — and that they can expect to see more characters like themselves soon.