Disney's pineapple Dole Whip is now a donut, and yes, we are crying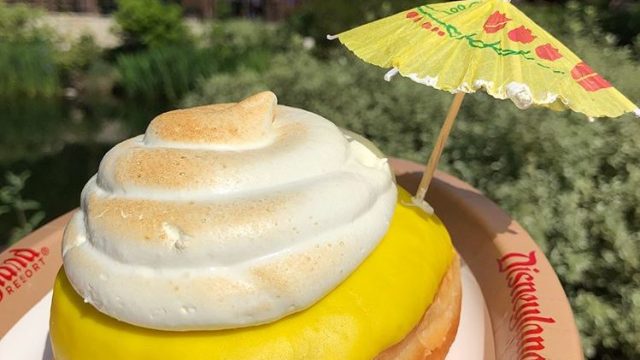 Since its creation in 1986, Dole Whip has been winning the hearts of Disney freaks who fall for its dairy-free pineapple perfection. In fact, its pretty much the main reason one goes to Disneyland's Enchanted Tiki Room or Aloha Isle in Walt Disney World's Adventureland. The traditional Whip comes in its signature soft-serve, as a float atop a scrumptious tropical beverage, and now, as a Dole Whip Donut.
According to People.com, for a limited time, Disneyland will serve a "Dole Whip Donut" at the Coffee Cart on Main Street and we're in full-on freakout mode.
Although "Dole Whip Donut" is not the official name for the pineapple-flavored treat topped with toasted meringue, that's what the Disney Food Blog has called it and we're sticking with that. Not only does the donut itself have a pineapple-y flavor, but it's actually filled with a pineapple-flavored jam-like filling. And there are even little bits of pineapple inside said filling. Paired with a cold Dole Whip float, you'll be riding first class to Dole Whip heaven.
Unfortunately, all good things must come to an end. People.com reports that the Dole Whip Donut will only stick around until Friday, April 20th. And a Disney spokesperson told the site that once the Coffee Cart is out of Dole Whip Donuts for the day, then they're out until the next batch is whipped up the next morning.
https://www.instagram.com/p/BhSJXjCgynB
The bottom-line is that if you want to sink your teeth into one of these bad boys, you better act fast.
Word on the street is that each donut costs $6.99, which is a small price to pay for the ultimate Dole Whip experience. We highly recommend you get to your local Disney Dole Whip dealer before time runs out.