This new Disney cruise, which sails along the Pacific Northwest Coast, was made for fans of The Goonies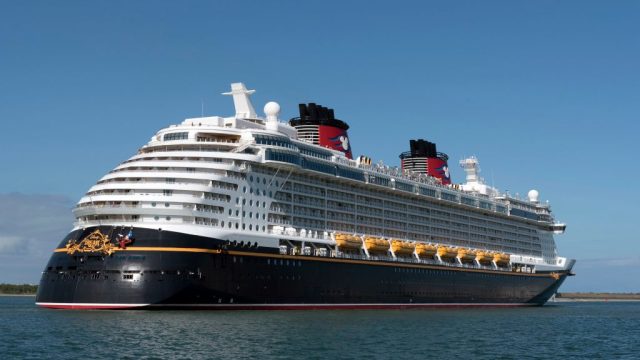 Need to get away? Ready to plan your next vacation? Disney Cruise Line just announced a very exciting new vacation option that will have you packing your bags ASAP. But this trip won't take you to beach or a deserted island. This Disney cruise is going where no Disney cruise has gone before: Oregon. Yep, this fall, you can relax in the Pacific Northwest with Mickey and Minnie.
On July 5th, Disney Cruise Line announced the addition of a new port in Astoria, Oregon, and we're already hyped about it. On September 10th, The Disney Wonder will set sail from Vancouver, Canada and make its way down to Astoria, a town that's rich with history. Astoria is the nation's oldest settlement west of the Rockies. It's also the site of Fort Clatsop, the spot where Lewis and Clark camped out upon finishing their trip to the pacific.
The Disney Cruise to Astoria boasts many excursions, but one of the biggest highlights is the trip to Mount St. Helen's National Monument. There, guests can walk around and explore the volcano, learn about the 1980s eruption, then enjoy lunch with incredible views. For more history, there's also an excursion to see local landmarks, including the Astoria Column, the Lewis and Clark National Historical Park, and the Columbia River Maritime Museum. Seriously, sign us up ASAP.
Of course, there's a Disney-themed excursion as well.
Movie buffs will love the "Filmed in Astoria" day trip, which will take you on a tour to some locations used in Disney movies. You'll get to see the spot where Willy was freed in Free Willy, plus a few different locations from The Goonies.
Disney Cruises are all about relaxation, so it's no surprise that this addition seems just as beautiful as the other destinations.
Relaxing in nature definitely seems necessary, but the Wonder also sounds like an amazing ship. When you're not hiking or learning about Astoria's history, you can hang out on one of the ship's 11 decks filled with various restaurants, pools, and other activities.
If this sounds like the perfect trip for you, you might want to start saving your pennies now. According to the Disney Cruise Line website, a 4-night trip could set you back almost $2,600 a person.
In the meantime, we'll be dreaming of those gorgeous Oregon views.