Disney characters recreating iconic holiday movie scenes will make you feel all warm and fuzzy inside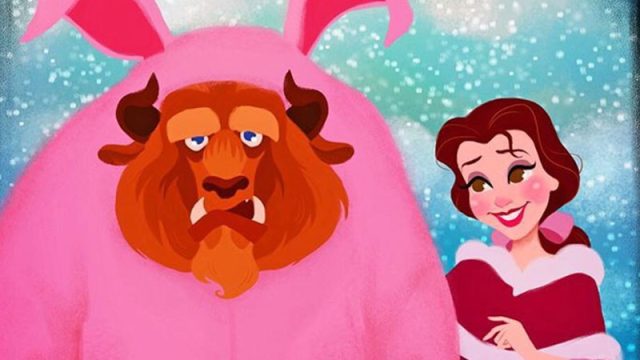 We always love this time of year. Because it means we have a shameless excuse to watch our favorite holiday movies nonstop. And, of course, one of our other greatest joys in life is Disney and Disney movies. So, what happens when your favorite Disney characters recreate scenes from your favorite holiday films? Well, MAGIC, obviously. Insanely talented artist Dylan Bonner recently imagined what it would be like for iconic Disney characters to be placed in equally iconic holiday scenes, and well, the result will seriously impress you.
Because these incredible works of art are so cool that you'll wish they really happened!
1Ariel in Elf.
This one is titled The Little MerElf, and we love how awesome Ariel looks in Buddy's iconic elf suit!
2Woody and Buzz in Mickey's Christmas Carol.
We love how Buzz's portrayal of Jacob Marley (Goofy in the actual movie) includes Barrel of Monkeys ~chains~. So clever!
3Alice and the Cheshire Cat in Miracle on 34th Street.
LOLing at Alice's reaction to Cheshire Cat's bodiless head!
4Mike, Sulley, and Boo in Dr. Seuss' How the Grinch Stole Christmas.
Boo works PERFECTLY as Cindy Lou Who!
5Tiana and Naveen in Love Actually.
Dying, we are ded.
6Peter, Wendy, Michael, and John (and Tinkerbell!) in The Polar Express.
We love how ethereal this entire scene is! So fitting.
7Belle and the Beast in A Christmas Story.
Beast is rocking the HECK out of Ralphie's pink bunny suit! And his face…CLASSIC.
8Snow White and the Dwarves in White Christmas.
A Snow White Christmas, is just too perfect.
9Elsa, Anna, Olaf, and Sven in Rudolph the Red-Nosed Reindeer.
We love the idea of Sven the Red Nosed Reindeer!
10The entire Inside Out crew in A Charlie Brown Christmas.
Sadness as Snoopy is amazing. LOL.
11The Big Hero 6 gang in Frosty the Snowman.
Baymax looks so dapper in that hat!
12And finally, Rapunzel in Home Alone.
Because, OBVIOUSLY, you save the best for last.
We are SO in love with all this artwork!