Disney Channel is running a four-day marathon of the DCOMs of your childhood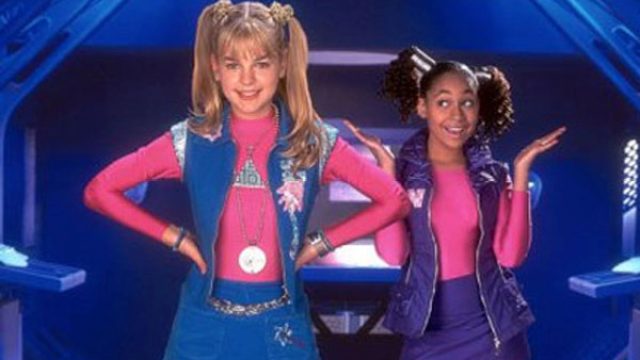 This summer, Disney Channel is going to premiere its 100th Disney Channel Original Movie (DCOM, for short), Adventures in Babysitting, a remake of the '80s classic of the same name. If everything about this makes you feel old because you watched the first-ever DCOM, Under Wraps, when it premiered back in 1997, then you're not alone. But if this just makes you crazy nostalgic for the DCOMs of your late '90s/early '00s youth, this news is actually pretty great. To celebrate this big centennial moment, Disney Channel is running a four-day DCOM marathon. And even playing them back-to-back for four days straight, they're only going to get through 51 of the 99 they've already made.
The full schedule is below, but if your favorite isn't on the list, know that all 100 movies will be available to buy digitally on iTunes, Amazon Instant Video, and Google Play, if you just really need to relive your middle school feels over and over again.
FRIDAY, May 27:
10:00 a.m. – Kim Possible Movie: So the Drama
11:20 a.m. – Read It and Weep
12:55 p.m. – Wendy Wu: Homecoming Warrior
2:40 p.m. – Jump In!
4:15 p.m. – Lemonade Mouth
6:15 p.m. – Zapped
8:00 p.m. – High School Musical 2
9:55 p.m. – The Cheetah Girls 2
11:45 p.m. – Zenon the Zequel
1:25 a.m. – Halloweentown II: Kalabar's Revenge
2:55 a.m. – Twitches Too
4:25 a.m. – Alley Cats Strike!
SATURDAY, MAY 28:
6:25 a.m. – You Wish!
8:05 a.m. – The Proud Family Movie
9:50 a.m. – Quints
11:25 a.m. – Horse Sense
1:10 p.m. – Cow Belles
2:50 p.m. – Twitches
4:30 p.m. – The Even Stevens Movie
6:15 p.m. – Wizards of Waverly Place: The Movie
8:00 p.m. – Camp Rock 2: The Final Jam
9:50 p.m. – Princess Protection Program
11:30 p.m. – The Cheetah Girls: One World
1:05 a.m. – Zenon: Z3
2:40 a.m. – Halloweentown High
4:20 a.m. – The Thirteenth Year
SUNDAY, MAY 29:
6:00 a.m. – Right On Track
7:45 a.m. – Full-Court Miracle
9:35 a.m. – Eddie's Million Dollar Cook-Off
11:20 a.m. – Brink!
1:10 p.m. – Double Teamed
2:55 p.m. – Rip Girls
4:35 p.m. – Motocrossed
6:20 p.m. – Cloud 9
8:00 p.m. – Teen Beach 2
9:55 p.m. – Bad Hair Day
11:40 p.m. – How to Build a Better Boy
1:20 a.m. – Pixel Perfect
2:55 a.m. – The Other Me
4:30 a.m. – Genius
MONDAY, MAY 30:
10:00 a.m. – Stuck in the Suburbs
11:30 a.m. – Halloweentown
1:05 p.m. – Zenon: Girl of the 21st Century
2:55 p.m. – Smart House
4:25 p.m. – High School Musical
6:15 p.m. – Camp Rock
8:00 p.m. – Descendants
10:05 p.m. – Teen Beach Movie
11:55 p.m. – Cadet Kelly
1:50 a.m. – The Cheetah Girls
3:35 a.m. – Johnny Tsunami