The OG Disney Ariel and other stars are defending Halle Bailey from casting backlash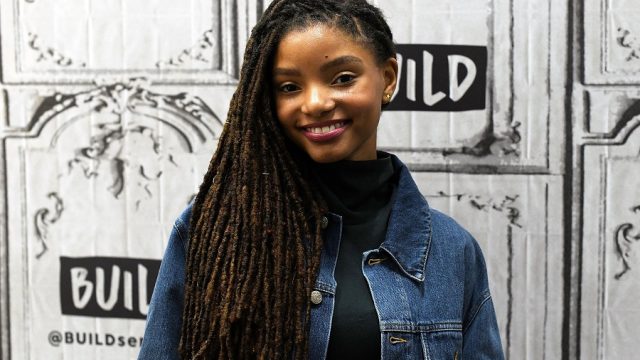 Unless you've been living under the sea, you've probably heard the news that Halle Bailey was cast as Ariel in The Little Mermaid live-action film. Though many fans are excited to see a talented woman of color play the Disney princess, others are upset that a white actress with red hair, as Ariel was depicted in the 1989 animated film, wasn't chosen instead. But, despite the racist backlash, a number of stars have supported Disney's progressive casting, including the OG little mermaid herself, Jodi Benson.
The actress defended Bailey after some social media users went as far as starting the hashtag #NotMyAriel following the casting announcement. When Benson was asked about the controversy during an appearance at the Florida Supercon convention on Saturday, July 6th, she stressed that the story and the character's spirit is what matters most—not what the person playing the role looks like.
"I think the most important thing is to tell the story," Benson told fans. "We have, as a family, raised our children and for ourselves that we don't see anything that's different on the outside. I think that the spirit of a character is what really matters. What you bring to the table in a character as far as their heart and their spirit is what really counts."
She went on to explain that channeling Ariel's spirit is how she herself has been able to step into the role, even though she's now a 57-year-old woman.
"We need to be storytellers," she concluded. "And no matter what we look like on the outside, no matter our race, our nation, the color of our skin, our dialect, whether I'm tall or thin, whether I'm overweight or underweight, or my hair is whatever color, we really need to tell the story.
https://www.instagram.com/p/BzmZo_2AR6i
Meanwhile, Benson isn't the only one who has spoken out about the online criticism over Bailey's casting. Actress Keke Palmer, who was the first black woman to play Cinderella on Broadway, weighed in on the backlash, too.
"What's up y'all, it's me, the black Cinderella," Palmer began. "And I know you're scared because Hollywood is making an effort to be more diverse in the people that they show on screen. But let me ask you this: why can't a mermaid be black? Why is that too unrealistic for you—because you do know she's friends with a talking crab, and I know you're not the sharpest people, but crabs can't talk. In fact, the entire thing is fiction!"
"And, since the beginning of the entertainment industry, the most roles for black women were that of the maid. So it's about damn time we get to play the mermaid," she added.
The 19-year-old also got support from the Japanese American actress who starred in The Little Mermaid's 2017 Broadway adaptation. Diana Huey, the first non-white woman to take on the role of Ariel, spoke out to share her own experience with negative comments, as well as offer Bailey advice about dealing with trolls.
"Isn't Ariel's entire message about finding where she belongs, where she is her truest self, and where she feels full and accepted? Halle is going to make a beautiful Ariel, a powerful Ariel and an inspiring Ariel and I am so excited to watch her change the world with her performance as she helps continue to make our world a more loving, inclusive and open-minded place," she wrote on Instagram.
https://www.instagram.com/p/BzgHX6CJ-8-
Even though backlash is disheartening, Bailey's portrayal as Ariel will have an impact on so many little girls around the world—and that's all that matters.