Disney's live-action "Aladdin" will probably cut another major character, and I'm about to raise hell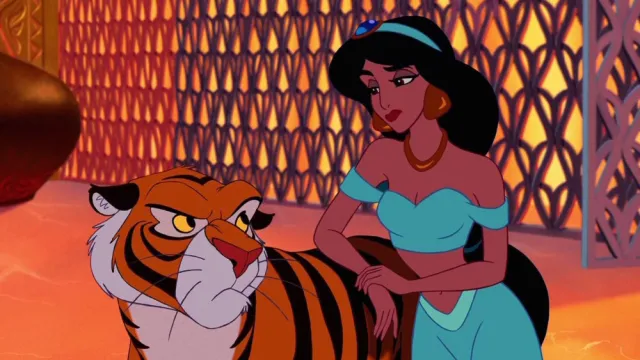 While everyone else had feelings and emotions regarding Disney's live-action Beauty and the Beast (you know, along the lines of, "Don't you dare mess this up, Disney"), I have been saving all of my feelings and emotions for Disney's live-action Aladdin. I am both very excited and very nervous for this new movie, and it appears I have good reason. Not only is Disney probably going to cut my favorite character from the film (IAGO!), but they're also probably going to cut everyone's favorite tiger from the retelling, too.
Yes, I am talking about Rajah, Princess Jasmine's friendly pet tiger.
In a new interview with The Hollywood Reporter, Naomi Scott — who plays the princess — revealed that live-action Aladdin is actually going to bring a few new female characters into the mix, which is something the animated version is desperately missing.
"I never realized it, but in the animation, Jasmine is really the only female character — isn't that crazy? Scott explains. "Dalia [Princess Jasmine's handmaiden, played by Nasim Pedrad] is so important to this movie because she's the only other female character. She may be the handmaiden but they're best friends; they're so close because they've grown up together. So we wanted people to watch the movie and see Jasmine's relationship with another woman, and be like, 'Ah, that's what I'm like with my girlfriend,' or 'We would so do that if I was in that position.' That's something that's missing from the animation.
This is super awesome, and I love strong, female friendships portrayed on screen. But also, I love watching movies about girls and their pet tigers. Why can't I have my female friendship and also a relationship with a wild animal, too?
While Scott never comes right out and says that Rajah has been cut, and THR has updated their piece to clarify that no one stated that Rajah has been cut, Scott's words clearly sound like the movie will be missing one tiger.
But hey, at least it sounds like Aladdin's new Jasmine will be updated for the changing times, and that's cool. As Scott continues, "Being a female character is also about being a real person, and guess what? [Jasmine] can be strong and have fun, but also get it wrong and be emotional. She's a multidimensional woman, and she doesn't have to just be one thing. So in this movie, you see her go on such a roller coaster, as opposed to her one goal being to fall in love or get married."
So while we gain one well-rounded female character, we lose a lovable tiger.
…however, one more thing. It sure looks like Disney is cutting Iago and Rajah from Aladdin, and you know what? We don't know about Abu. So help me, Disney, if you take Abu the monkey away from me, too.