11 TikTok tutorials for disguising dirty hair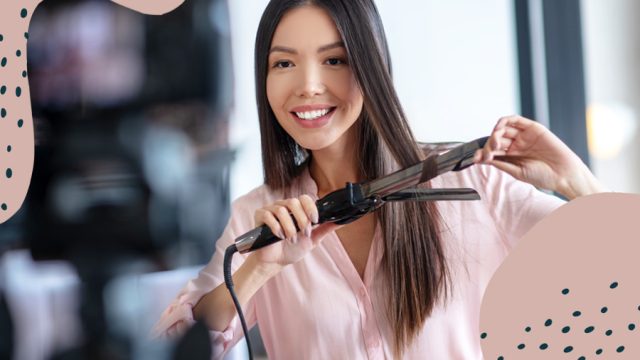 Dirty hair, don't care. Let's be honest, for many of us it's day #40329 of quarantine (or at least that's what it seems like), and as we continue to adapt to remote work and virtual happy hours as a result of the coronavirus (COVID-19) pandemic, it seems that many people have completely ditched their beauty routines. It looks like washing our hair has also been placed on the back burner—and it seems to have inspired a growing hair trend on TikTok. In fact, thousands are using the popular social media platform to share their own tried-and-true tutorials for dirty hair, all of which require the minimum amount of effort. 
After hours upon hours combing through the #DirtyHair and #DirtyHairDontCare hashtags in the name of ~journalism~, we've narrowed down the best dirty hairstyle tutorials that'll help you elevate your beauty routine in quarantine. So grab your dry shampoo, untie your ponytail, and blast some tunes: Here are the chicest tutorials for dirty hair, according to TikTok. 
Chic, low ponytail
This sleek, low ponytail is especially adorable on short or medium-length hair. Spritz on your favorite texturizing spray, part your hair in the middle, brush out your locks, throw your strands into a low pony, and smooth down your flyaways. It's that simple. 
Messy updos
Instead of hiding your greasy hair under a hat, twist pieces of your hair into the headband and tuck it in to hold everything in place. For a more natural look, pull out some strands to frame your face. P.S.: Braids and updos look best on dirty hair because your strands' natural oils help to add texture.  
Voluminous French braid
If you feel like getting extra fancy, try this chic braid-ponytail hybrid. Start by gathering a small section of your hair like you're about to put it in a poof (à la Snooki circa 2009)—but instead of teasing your hair and clipping it up, separate the section into three pieces and French braid away. Then, pull the rest of your hair into a low pony. 
Bubbly pigtails
This hairstyle may seem intimidating, but all it takes is a little patience. Start by separating the two sides of your hair. Gather your first section (towards the very front of your hairline) and twist it into a small, high ponytail. Then, grab your next section (the "middle" part), and combine that with the small, high ponytail you created before. Tie both sections into a new ponytail. Keep following the same pattern, and gently pull on your ponytails to loosen your strands. 
'90s updo
Calling all '90s kids! To get this Instagram-worthy look, first tease the back part of your hair with a comb. Then, pull the rest of your hair (along with the teased part) into a high pony. (The teased part should "poof" up a little bit to stand out; adjust and re-tease as necessary). Complete the look by pulling out two front pieces of hair and straightening them. 
Voluminous low bun
It's hard not to fall in love with this sleek low bun. Put your hair in a middle part and brush away any flyaways. Then, wrap your hair into a low pony right by the nape of your neck and twist into a messy bun. Note: This 'do works best on longer hair since you'll need to twist your strands multiple times to achieve the desired messy-but-put-together bun shape. 
Side-part styles
For the first look, start by parting your hair to one side. Once you've achieved your desired part, pull your hair into a low pony. Brush away any flyaways and pull out any baby hairs or strands that look out of place. Then, grab a small piece of hair from your pony and wrap it around your hair elastic (tip: use a bobby pin to hold it in place) for a sleek yet stylish ~lewk~. For the second look, keep your side part, brush away flyaways, and pull the remaining hair behind your head. Then, twist the hair and pin it up with a jaw clip. Finito! 
Supermodel topknot
Channel Kendall Jenner with this effortlessly glamorous half-up, half-down topknot. First, pull a section of your hair up into a high ponytail in the center of your head. Use a comb to tease as desired for added volume. Then, twist and wrap your hair into a topknot and secure with bobby pins. 
Boho chic pigtails
If you're intimidated by plaits, you'll love this braid-free look. Put your hair into a normal pigtail using a hair elastic, tying it right under your earlobe. Next, separate the hair above the hair tie into two parts and push your ponytail through. If you have longer hair, follow the same pattern one or two more times, depending on your desired look. Since this look requires your hair to be flexible (lots of bending, twisting, and pulling), it will look best on dirty hair since the natural oils will help you adjust your strands into place. 
Headscarf updo
You know what they say: "The higher the hair, the closer to heaven." Start by sectioning off your hair and teasing each section (and adding tons of hairspray!). Then, tie your favorite headscarf or bandana just above your forehead. Pull together the rest of your hair, twist it, and secure it with a bobby pin. Don't worry about your form: The messier your hair is, the better it'll look. Added bonus: Not only does your hair accessory look cute, but it'll also hide your greasy roots. 
Dutch braids
Braided pigtails are always a good idea, and while Dutch braids (aka "reverse braids") may seem intimidating, they're actually super simple to create. Your hair should be knot-free, so start by brushing it out. Then, section three small pieces of hair on each side. You'll want to weave each section under the other as opposed to over (that's a French braid). Repeat the pattern and keep adding more hair. Tie off the end of your braids with a hair tie, and you're good to go!
Want even more dirty hair tutorials? Just type #DirtyHairDontCare in the search bar of TikTok, and you'll find thousands of 'em. Happy hairstyling!