Jennifer Lawrence and Dior are being accused of ripping off Mexican culture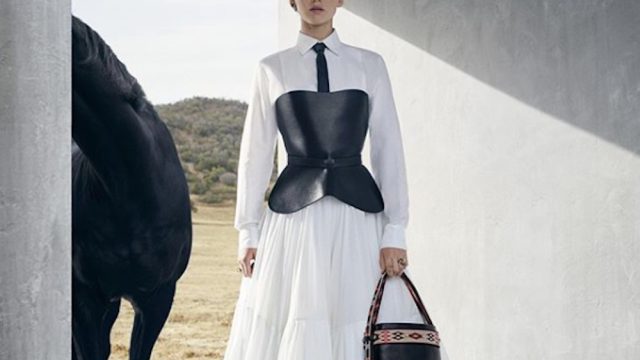 Jennifer Lawrence and Dior are in the news for all the wrong reasons. Scratch that, for one reason: cultural appropriation. The actress is the new face of the fashion house's latest collection. So why is that problematic? Dior's collection is entirely inspired by Mexican culture. To be more specific, the pieces in the line are heavily influenced by escaramuza charra.
To give you some backstory, escaramuza is a Mexican sport, almost like a rodeo, which features a group of women (usually 10 to 16) on horseback. They choreograph dance routines with their horses, which makes for a one-of-a-kind experience. Most consider escaramuza attire a form of art, similar to ballet folklorico, so it's not surprising that Dior would be enamored by it.
The problem with Lawrence being the face of this specific collection is obvious: She's not Mexican (or Latina for that matter). This collection directly takes silhouettes, patterns, and designs that are so ingrained in Mexican culture that Lawrence's casting has struck a chord in the Mexican community. If anything, it's sad that Dior didn't cast a Mexican artist (whether an actress, singer, or model) as the face of their new collection.
https://www.instagram.com/p/BpWT84DFdZN
It's not like the fashion house hasn't thought to highlight Mexican women before. Back in May, Dior's creative director Maria Grazia Chiuri (who is Italian) presented the collection in a respectful way: Remezcla reports that the fashion house flew in an eight-woman team from Mexico who each wore the latest pieces from the collection. As models walked down the runway, they rode in unison. It's sad that the brand would make an effort to highlight these women during their show but forget about them during the ad campaigns.
In a behind-the-scenes video posted to Instagram, Dior shared Lawrence's experience shooting the campaign. The actress said:
"One of the main inspirations of this collection is the traditional women riders of Mexico. I'm really excited that this collection is looking at and celebrating these women's heritage through such a modern lens."
https://www.instagram.com/p/BpY5AffFrCc
Many people on social media quickly pointed out the cultural appropriation, and the thoughtlessness of Lawrence's comments.
Even 2 Dope Queens actress Phoebe Robinson took to Instagram to share her thoughts on the brand's blatant cultural appropriation:
"#Dior & #JenniferLawrence wanna celebrate traditional Mexican women riders thru a 'modern lens'...by having a rich white woman named Jennifer be the face of this campaign? And like they couldn't think of a better landscape to shoot than in California?! "Hmm, I dunno, maybe...like...shoot...in...Mexico...with...a...Mexican...actress like Salma Hayek, Karla Souza, Jessica Alba, Selena Gomez, Eva Longoria, or many others. But I guess they were all unavailable, so you had to go with Jennifer Lawrence."
It's true—there are many people Dior could have made the face of the collection. Aside from the actresses Robinson listed, there is also Kate del Castillo (who is pretty much Mexican royalty), Eiza González, and Netflix's Made in Mexico star and model, Columba Díaz. That's just scratching the surface. It's disappointing that despite the inclusive options available, Dior chose someone who is "marketable" rather than to respect the culture they lifted ideas from.