This differently abled girl and her dad just got Disney to change their own rule
It's only January, but we're ready to give Dan Boyle from Ohio the Dad of the Year award. Together, Boyle and his differently abled daughter, Courtney, have participated in street races totaling more than a whopping 100 miles, with Boyle on-foot pushing Courtney's wheelchair.
Being the awesome dad that he is, Boyle was ready to head to Florida with Courtney so they could participate in the Disney Glass Slipper Challenge. (Because #Disneyprincessgoals!) But pushing wheelchairs in the race is against Disney rules. Boyle, who said the rule took him by surprise, wasn't going to take no for an answer. (Again, awesome dad alert.)
He contacted the United States Track and Field Federation for help, and soon he heard straight from Disney. Boyle told WHDH7 News, "We got a phone call out of the blue, it was the director of the event himself who said we would like you to come down and take part…We got Disney to say yes to something and now we call Courtney a trail blazer."
Props to Disney for doing the right thing. And MAD props to her amazing dad. Courtney is indeed a trail blazer! A royally stylin' one TBH. For the princess race, she'll be wearing a special helmet equipped with a tiara.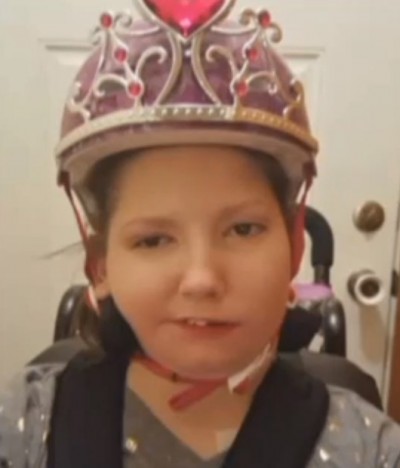 We just love a fairytale ending! Best of luck at the race, Dan and Courtney! To hear more about their story, check out the video below:
[Images via video. Video via WHDH7 News.]