Diego Luna shared the sweetest story about why diversity in "Star Wars" is important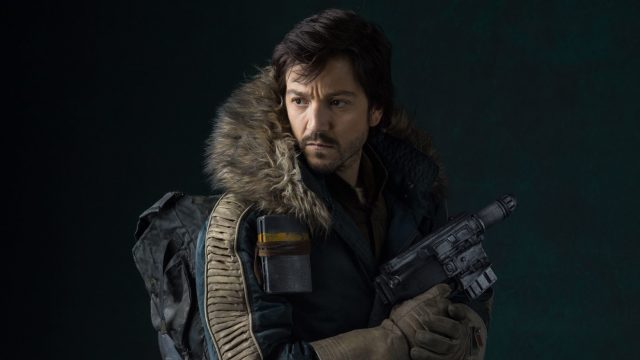 We've been loving the amazing reaction to Rogue One, and now one of the movie's stars, Diego Luna, has shared the sweetest story about why representation in Star Wars matters and it's so emotional.
Given the ongoing discussions regarding representation and diversity in Hollywood, the most recent Star Wars movies, including The Force Awakens and Rogue One: A Star Wars Story have been praised for their increased visibility when it comes to race and women.
Indeed, Felicity Jones, the lead actor in Rogue One, spoke about her desire not to objectify her character of Jyn Erso, while The Force Awakens star John Boyega has spoken out in support of more diversity in Hollywood.
Now Diego Luna, who plays Captain Cassian Andor in Rogue One: A Star Wars Story has shared the sweetest story about why diversity in the franchise is important.
Luna, who has previously spoken about representation in film, shared a post he came across from Tumblr, which tells the tale of user riveralwaysknew, who took their Mexican father to see Rogue One.
In the story, riveralwaysknew explains that they wanted their Mexican father, who has a strong Mexican accent, to see Rogue One because there's they wanted him to see "a hero in a blockbuster film speak the way he does."
"When Diego Luna's character came on screen and started speaking, my dad nudged me and said, 'he has a heavy accent,'" they recalled. "I was like, 'Yup'. When the film was over and we were walking to the car, he returns to me and says, 'did you noticed that he had an accent?' And I said, 'Yeah dad, just like yours.'"
riveralwaysknew went on to say how initially their father was confused as to why Luna hadn't changed his accent for the film, and kept asking whether it had been a successful movie.
"I told him that Diego has openly talked about keeping his accent and how proud he is of it," they wrote. "And my dad was silent for a while and then he said, 'And he was a main character.' And I said, 'He was'. And my dad was so happy. As we drove home he started telling me about other Mexican actors that he thinks should be in movies in America. Representation matters."
Upon seeing the story, Luna shared a screenshot of it on Twitter, stating that he had "got emotional reading this!"
Okay, we're totally welling up at this INCREDIBLE story. We love hearing about how diversity and representation has positively affected people's lives, and it's heartwarming to see the effect that it has on those involved with making the movies, too.
May the Force always be more diverse in the future.