Once upon a time, Diego Luna was the "artsy boyfriend" in a Katy Perry music video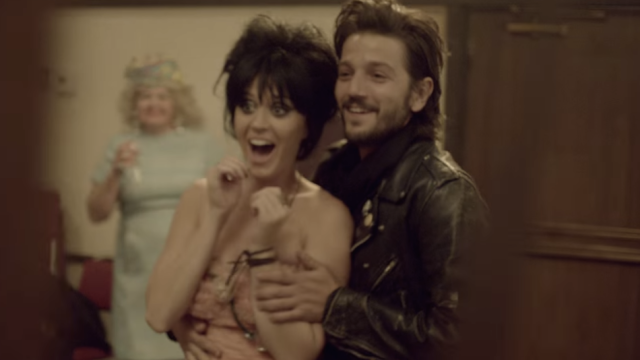 The new Star Wars film, Rogue One, has been out for a week now and anybody who's seen it has inevitably come away with a lot of thoughts. Of those thoughts, you probably couldn't stop reeling from the overall badassery of Jyn and the surprise connection the standalone film has to the other Star Wars films. You probably also walked away thinking that moody Cassian Andor was kind of hot. Diego Luna, who plays Andor, has had a pretty lengthy film career — but did you know he also once starred in a Katy Perry Music video?
https://www.youtube.com/watch?v=Ahha3Cqe_fk?feature=oembed
In the music video, an older Perry, wearing a lot of prosthetics, is reflecting on the love of her life through flashbacks. Luna, who really rocks the struggling artist look, and Perry are young artists in love. The flashbacks are an adorable montage of Luna looking gorgeous and in love with Perry until, towards the end of the video, a fight causes him to take off in his car and (SPOILER) die in a car accident. It's a pretty intense music video.
The Mexico-born Rogue One actor has had a pretty successful career in Hollywood. He had a  breakout performance with Gael García Bernal in Alfonso Cuarón's 2001 Mexican film Y Tu Mamá También, which jumpstarted their careers in the U.S. He also starred in Dirty Dancing: Havana Nights and animated film The Book of Life and had supporting roles in The Terminal, Milk, and Elysium.
Since Rogue One has come out, Star Wars fans have been flooding Katy Perry's Vevo YouTube page, commenting on Luna's appearance in the video. Cassian Andor probably won't be back for another Star Wars movie, and while we're sad about that, maybe he's our Star Wars love…that got away.