Looks like the dictionary is calling out Trump for incorrectly pronouncing a word last night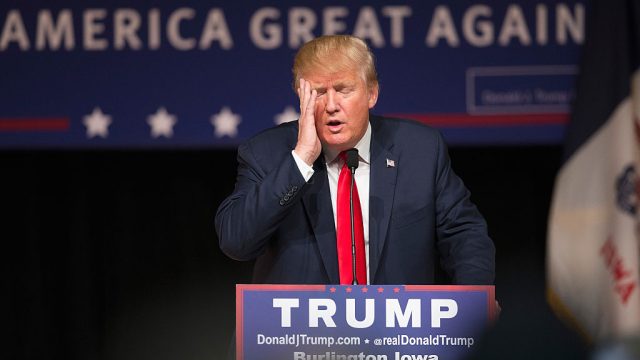 You know things are bad when Merriam-Webster is calling you out.
During the debate last night, Donald Trump tried to use a big word — braggadocio — and ended up saying something kind of similar, but a little more funky — braggadocious. While a few eyebrows were raised when the mispronunciation was said out loud, our good friends Merriam-Webster made sure to set the record straight.
And, that right there is why the dictionary is one of our favorite resources. Even through Twitter, they try to teach us something new.
So — now that we know how to say it, what does it mean? Braggodocio is a noun that is defined as boastful, bragging chatter.

Not only did Trump mispronounce the word, but his alternate choice sounded a bit — might we say — Disney.
It was something a bunch of viewers caught onto pretty quickly. All in all, we suddenly feel inspired to buy a Word A Day calendar and watch Mary Poppins. So far, Trump has yet to comment on the error through Twitter.
The good news? Well, people were also looking up a few amazing power-words last night, so not all was lost.
Did the debate make you feel pretty darn political? Then you might want to take this survey that People put together. Their goal is to help figure out what influences Time Inc. readers when it's time to vote. And as a bonus,  you'll receive a discount code that will give you 20% off at the People Shop once you're done with the survey. It's pretty much a win-win.