Dick's Sporting Goods will no longer sell assault rifles, and Twitter is rejoicing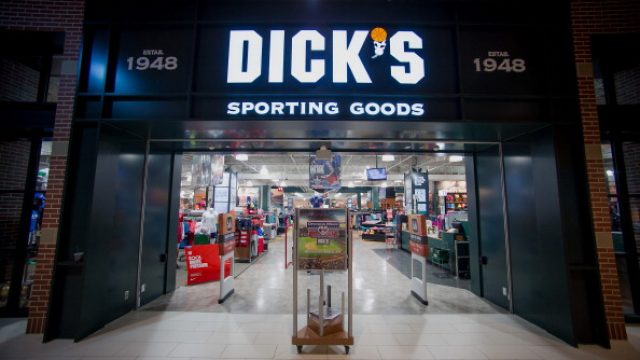 It has been two weeks since a gunman carrying an AR-15 semiautomatic rifle opened fire on Marjory Stoneman Douglas High School in Parkland, Florida. In that time, while politicians have argued back and forth about whether or not to act, survivors of the shooting have taken charge, organizing protests to advocate for stricter gun control laws. And people are beginning to listen. Today, February 28th, Dick's Sporting Goods announced that, after witnessing these students' protests, it will no longer sell assault rifles.
On Good Morning America, the company's CEO, Ed Stack said that Dick's will no longer carry high-capacity magazines or assault rifles like the AR-15 used in the Parkland shooting. Stack also said that the company will impose an age limit of 21 for all customers who wish to purchase firearms. He revealed that 19-year-old Nikolas Cruz, the shooter in the Parkland attack, had purchased a gun from one of the company's stores in November, although it wasn't the gun he used in the shooting.
"We did everything by the book. We did everything that the law required, and still he was able to buy a gun," Stack said about Cruz's purchase. "When we looked at that, we said the systems that are in place across the board just aren't effective enough to keep us from selling a gun like that."
Later, the company tweeted the new changes to its policy and called for members of Congress to enact similar regulations on a national level.
Dick's is the largest sporting goods store in the country. The company removed assault rifles from its main stores after the Sandy Hook shooting in 2012, but its smaller Field and Stream stores had continued to sell them until Stack announced these changes to the company's policy.
Twitter users applauded Stack's decision.
false
The retailer even gained some new customers as a result of the changes.
false
https://twitter.com/udfredirect/status/968862596374913026
https://twitter.com/udfredirect/status/968889618031669248
Meanwhile, some called for other companies like FedEx to follow Dick's lead.
https://twitter.com/udfredirect/status/968899284698480641
Stack's decision to stop selling firearms is a huge step in the right direction. We applaud Dick's Sporting Goods for recognizing that lives are more important than gun sales. But the fight to end gun violence can't stop with retailers. Our country is long overdue for a serious gun reform discussion. We need Congress to take action, and we need them to do it now.