Hot Topic's new modern Disney Princess collection is here, and every item is a dream come true
You might be able to take the girl out of Disney, but it's much harder to take Disney out of the girl. And thankfully, with Hot Topic's latest collaboration with lifestyle brand Her Universe, you won't have to. Just because you might work in an office (and maybe only visit a Disney Theme Park once a year), doesn't mean you still can't try to live every day like the princess you know you are — and do so in outfits that are perfect to go from day to night and everywhere in between.
This latest collection — titled "Destination Disney" — shows us what some of our favorite princesses might look like if they were to suddenly pack their bags and hit the road on an adventure. The shirts, pants, dresses, and accessories "[take] inspiration from fan-favorite Disney heroines and their character strengths. The collection is a modern, unique spin on each Disney heroine's outfit as seen in their respective animated feature films."
Everything here was designed by the winners of the 2017 Her Universe Fashion Show at San Diego Comic-Con: Grace Duval, Lindsay Orndorff, and Rose Ivy. Each one has spent the last year bringing these designs to life, and now you can buy them yourself. The clothing comes in regular and plus sizes, and everything is priced under $100 (!). No need to break the piggy bank to add them to your closet.
Along with everything just being downright gorgeous, each ensemble includes a few hidden nods to the princesses themselves — most notably, an inspirational quote from the princess. HelloGiggles has the exclusive first look at everything from Destination Disney, which is available right now on HotTopic.com and in stores.
Ariel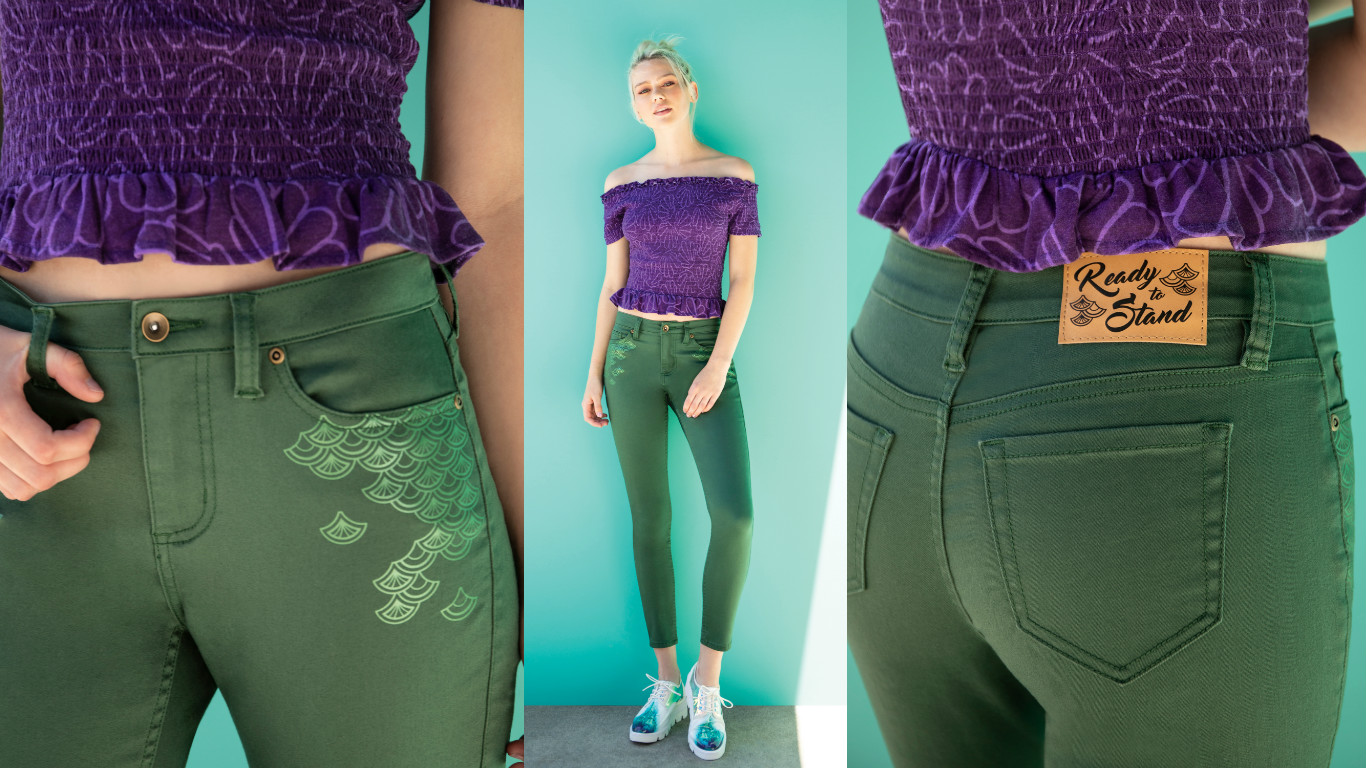 The Little Mermaid ensemble includes a pair of scale-embellished pants ($36.90) that should be required for jumping, dancing, and strolling along the…what's the word again? Oh, street. On the back, the pants include a brand patch with one of Ariel's own mantras, "ready to stand." The smocked shell top ($32.90) features an all-over seashell print.
Rapunzel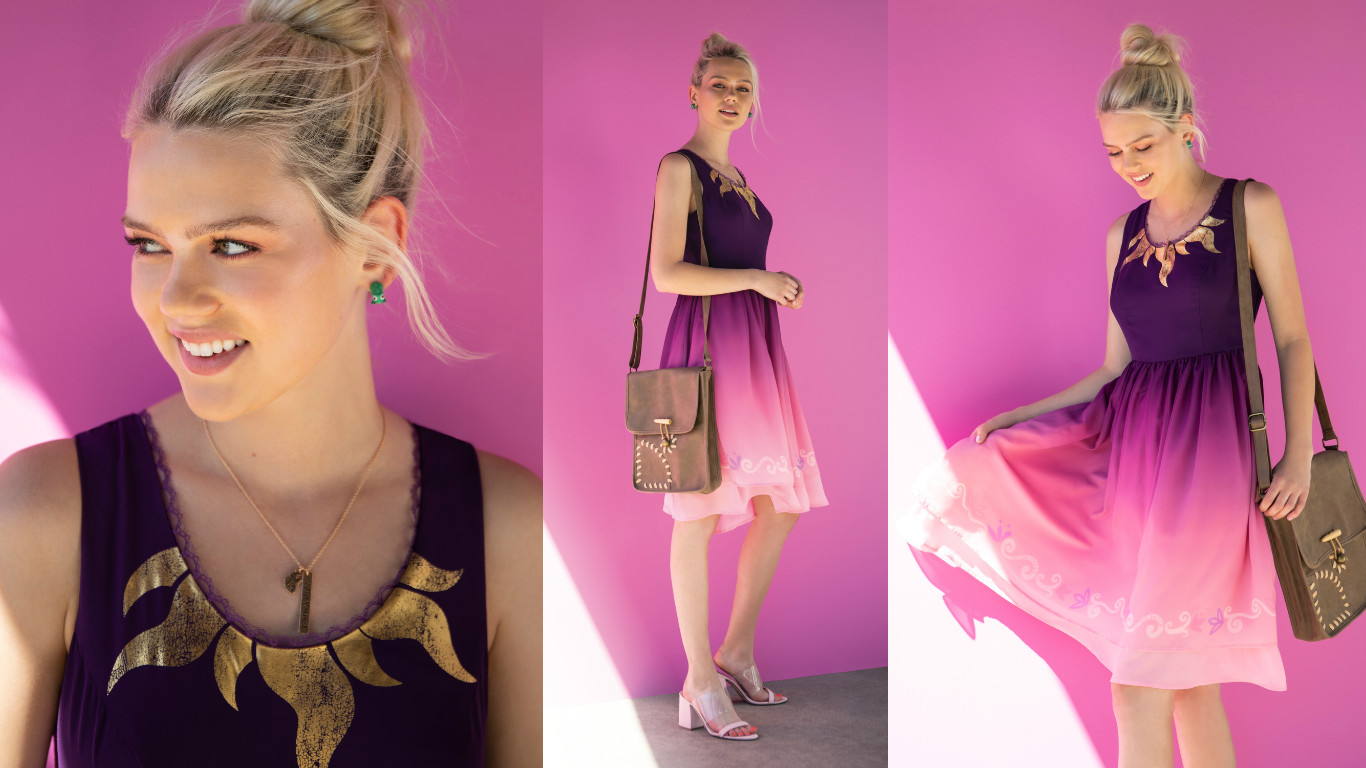 You're going to want to leave your tower every day in search of the best day ever in the Tangled ombré dress ($59.90). The dress has "distressed golden foil inspired by the magical flower that gave Rapunzel her powers" along with a corset back and "live your dreams" writtenalong the bottom hem.
Jasmine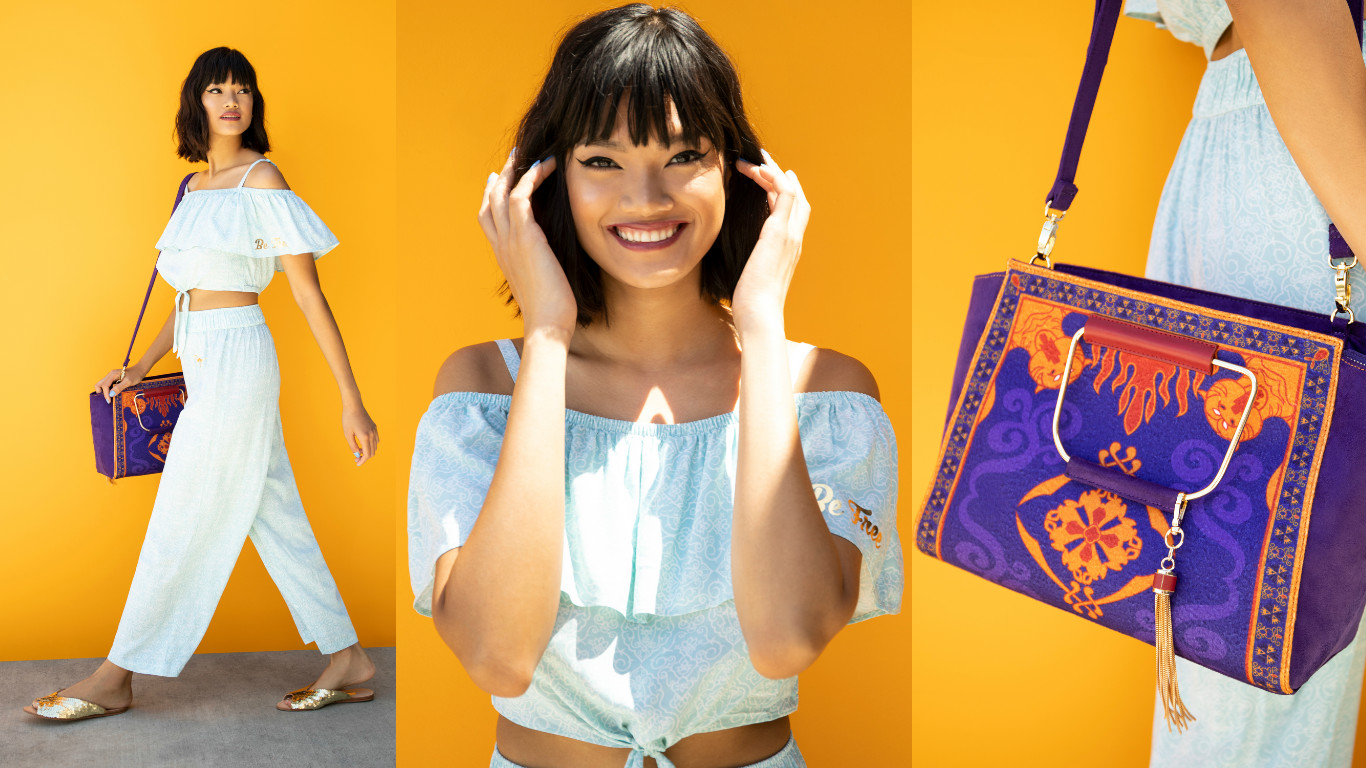 Princess Jasmine's top and bottom combo might have been the first outfit you really looked at and thought, "Oh yes, I'd wear that." Well, now you can. The pants ($49.90) are high-waisted and flared, while the top ($32.90) has an off the shoulder neckline and tie front. Both have an all-over "mandala inspired print that includes Aladdin iconography" along with a magic lamp and the quote "be free." And no trip to Agrabah is complete without a Carpet handbag ($49.90).
Moana
You might not be facing down Te Fiti but you can certainly look the part. The Moana top ($32.90) and border skirt ($36.90) feature "a black print inspired by Moana's ceremonial Chief clothing" and "a floral border print inspired by Moana's journey." The skirt also features the "know who you are," quote and pockets — that is, if you don't want to put everything in your Hei Hei bag ($39.90).
Tiana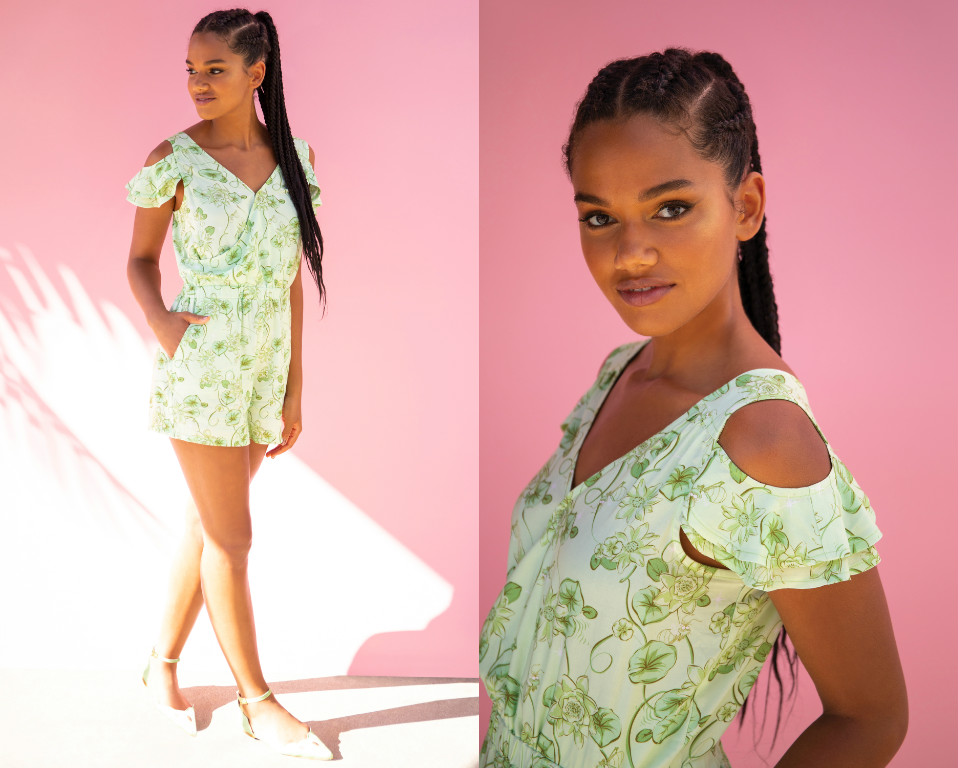 The Princess and the Frog cold shoulder romper ($49.90) features "an allover sketch style floral design that features water lilies, lily pads, Ray, and his love, Evangeline." The romper has pockets (!) and "make it happen" embroidered on the back at the neck.
Mulan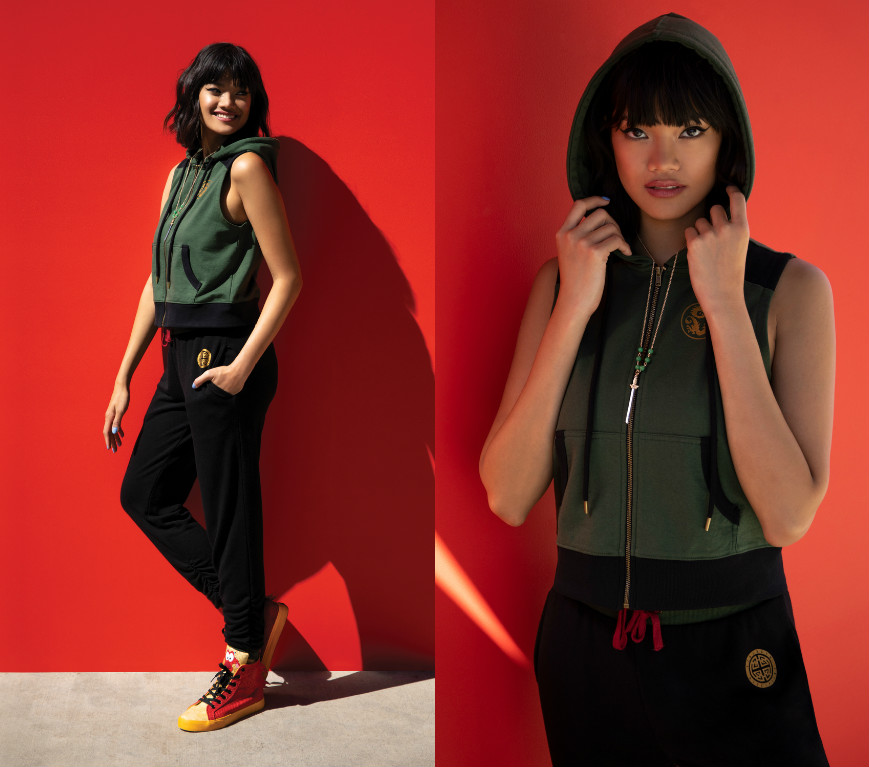 If you're into kicking butt and taking names, the Mulan inspired joggers ($36.90) and hooded vest ($29.90) are just what you need to defeat the Huns day. The pants feature a gold foil hip hit, while the hoodie has large pockets for everything you might need — and the inside lining features a design that includes Mulan's sword.
The whole collection is available right now at Hot Topic.com and in stores.