This designer brought Disney princess gowns to life, and they are breathtaking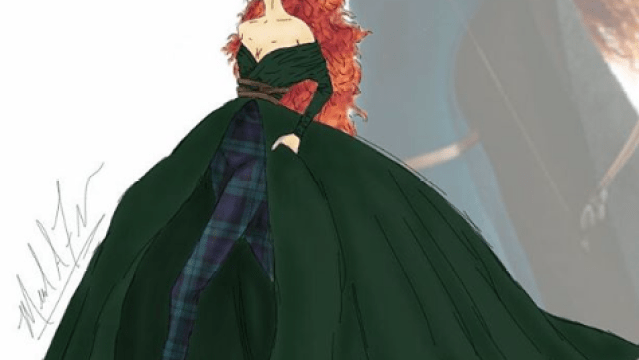 For many of us, Disney princesses were our first real fashion icons. And now, we have a collection of Disney princess-inspired gowns to continue inspiring our sartorial choices. Designer Michael Anthony is recreating the iconic looks of some of our favorite characters like Princess Leia, Princess Tiana, and of course Cinderella.
The Chicago-based designer is creating couture we actually want to wear by taking style cues from some of our favorite trends like thigh-high slits, colorful fur and two piece sets. Anthony's colorful creations are an ode to the style of our favorite princesses, but also a love letter to what they represent, namely ambition, strength and selflessness. Whoever thinks you can't wear a beautiful gown and change the world has never seen Mulan or Star Wars. Although these pieces are more fashion and less function, we still can't get enough.
The first design in the "mini collection" of couture Disney princess creations is none other than original girlboss Pocahontas. Wearing a camel colored mermaid skirt, with elbow length gold gloves, and a brown fur stole belted in her signature turquoise, she looks like the glamorous and modern version of the princess we know and love. And honestly, who wouldn't want someone who looks so fabulous to show them all the colors of the wind?
According to an interview with ABC, Anthony's favorite princess is Cinderella. And his revamp of her classic, baby blue ball gown  is literally to die for, or rather, to lose your shoe at midnight for. With an exaggerated bustle of layered, shimmering, ice blue fabric and a simple corseted bodice with the daintiest of tulle overlays, Cinderella probably wishes this was what her fairy godmother granted her.
Perhaps the most unexpected look is Merida from Brave, in her daring off-the-shoulder forest green belted ballgown worn with tartan leggings and the perfect minimal strappy heel. Channeling major Vivienne Westwood vibes, the Princess looks more like a Queen than anything. With the cool toned dress contrasted against Merida's flaming red hair, this look is iconic, and something we'd totally love to wear.
We have to give it up to Tiana, though, the princess from The Princess and the Frog. The beaut wears a light green gown with a thigh-high slit and plunging neckline accented by daisies. To accessorize, she wears more daisies on a belt, as well as a three tiered necklace, earrings and the most perfect lime green coat. Let's just add this whole look to "looks we didn't know we needed, but we need."
What would a Disney Couture Princess Collection roundup be without at least one Frozen reference? Thanks to Anthony, Anna looks both fabulous and warm in her magenta fur coat (with corset accents of course) and a royal blue gown with a sheer, mermaid overlay. We love how Anthony's renditions of the Princesses are all an ode to their style and personality. For Anna, that means a fur coat in a shade as fiery as she is.
Mulan's not necessarily the first princess you'd think of when you think of couture, but the princess really knows how to glam up. Thanks to Anthony, the power woman got a wardrobe upgrade. Seen wearing a modern take on her traditional Chinese wear, Mulan rocks a slinky, peach off-the-shoulder number with an ombre train, belted waist and matching choker. Finished in a traditional style headdress, this look is a beautiful tribute to Mulan, and would have been perfect to celebrate the Chinese New Year in.
And of course, one of our personal favorites, Anthony's ode to Princess Leia (RIP Carrie Fisher, we miss you). Wearing a draped, silver number with the perfect futuristic accents, this is the sort of Star Wars style we've been waiting for. With a perfectly placed cut out, contrasting sleeves, and part of a skirt worn as a choker, this creation that speaks to the strength of the woman wearing it. Topped with her signature double buns, we know both Leia and Fisher would have fawned over this.
We love Anthony's work but now we hope he actually creates these looks in real life. Here's to hoping our fairy godmother answers our prayers.