This selfie nail art is so extra, it uses hair instead of paint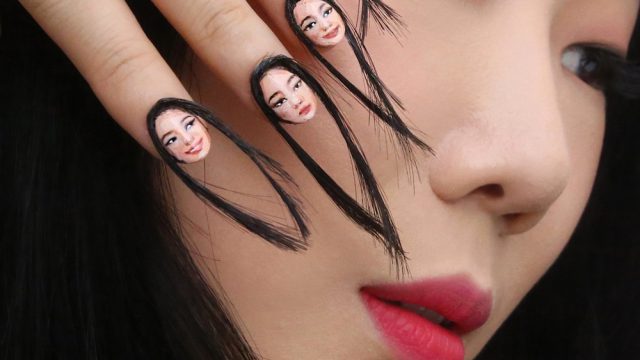 Nail trends are hair today, gone tomorrow — in the case of one Korean visual artist, literally. Dain Yoon is an "illusion artist" whose body and face illusion paintings have amassed nearly 200,000 Instagram followers. And she recently broke the internet (and people's brains) with a very hairy nail look. Seriously, this latest work takes the nail selfie concept to the next level.
Dain painted five tiny self-portraits (each with a different expression) on the fingers of her left hand. She didn't stop with the faces either: Instead, she added hair as an extra (and we do mean extra) touch. We're not sure if it's her real hair or pieces of a wig, but this look is certainly un-be-weavable.
Casually breaking the internet like…
You ever get your hair caught in your nails? This is kinda like that on a high-art level. Love it or hate it, you can't deny the woman has serious talent.
Love the tongue-out thumb.
Were her nails jealous of brows having the spotlight? Surely the look will inspire some copycats. Would you try this at home?
So expressive.
Dain's other work explores self-portrait by creating wild visual effects using just her expert painting skills — no digital doctoring involved.
The many faces of Dain.
Some of her face paintings look like Snapchat filters mixed with old school surrealism, and we are "hair" for it.
Magritte vibes.
All eyes on Dain.
Color us impressed. We can't wait to see what Dain does next, and you can check out more of her work on her Instagram account.